Best Selling Author Kwame Alexander Connects With Nantucket Students
Jason Graziadei •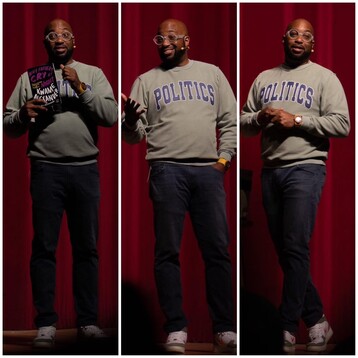 Best selling author Kwame Alexander was a huge hit with island students and teachers during his visit to Nantucket High School on Thursday.
Alexander, who writes poetry and children's fiction, is the author of more than 20 books including the award-winning "The Crossover," published in 2015. His visit to the island was part of the Nantucket Book Foundation's Visiting Author program.
"I knew that Kwame was going to be good, but I had no idea how great he really is," said Rebecca Hickman, Cyrus Peirce Middle School librarian and Nantucket Book Foundation board member. "Kwame was engaging and inspiring, and the students enjoyed every minute. From the laughs and eager participation as an audience, to the line out of the library for an autograph - his books, on their shoes, socks, water bottles, whatever they had - to the kids throwing open classroom windows and running out to the courtyard to say goodbye, it was clear he made a lasting impression on our students."

Jill Surprenant, the Nantucket High School librarian added "Kwame Alexander was absolute magic today. He truly connected with our students, inspiring them with interactive, on-demand stories, poetry, and laughter. Throughout his dynamic presentation, he validated and amplified teen voice, deftly reinforcing a message of love and hope and possibilities. Our hearts and minds were lifted—-thank you, Nantucket Book Foundation!"
Nantucket Book Foundation executive director Kaley Kokomoor said Alexander's visit was made possible by a grant from the The Nantucket Golf Club Foundation.
"The Visiting Author program was created by NBF Board President Mary Haft and has been supported in part by grants from the Community Foundation for Nantucket's Nantucket Fund, Nantucket Cultural Council, all of our teachers and librarians, Nantucket Book Partners and supporters," Kokomoor said.

Current News