Cargo Plane Dumps Fuel East Of Nantucket Due To Loose Horse
Jason Graziadei •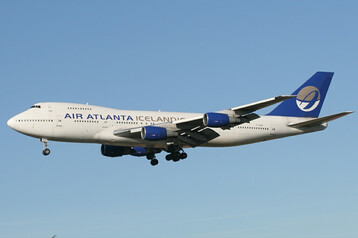 An international cargo plane was forced to dump nearly 6,000 gallons of fuel over Nantucket Sound and the waters east of Nantucket after a horse got loose inside the aircraft during the flight from New York to Belgium.
Yes, you read that right.
As the cargo plane was flying south of Martha's Vineyard and Nantucket after departing from the John F. Kennedy International Airport last week, the pilot reported to air traffic controllers that a horse had escaped from its stall, and the aircraft needed to return to New York. The flight crew was cleared to dump the aircraft's payload of jet fuel - what the pilot described as "20 tonnes of fuel" - during a 20-minute circling maneuver that began 10 miles west of Martha's Vineyard and ended just east of Nantucket. 

The bizarre story, first reported by WCAI, occurred on Thursday, Nov. 9th, aboard an Air Atlantic Icelandic Boeing 747-400. In audio from the incident, the pilot can be heard reporting to air traffic controllers in Boston that "We have live animal, horse on board the airplane. And the horse managed to escape the stall. We don't have a problem as of flying wise but we need to return, return back to New York. We cannot get the horse back secured."

Cape Air founder Dan Wolf explained to WCAI that the fuel dump was necessary because landings require less weight than takeoffs, and so the aircraft needed to shed its fuel to return to JFK just 90 minutes into its flight. Flying at an altitude of 22,000 feet, Wolf said, was high enough for the fuel to evaporate and minimize potential environmental impacts. 

"That amount of jet fuel in the atmosphere is not a good thing, but the quantity is not significant enough to have a major impact," Wolf told WCAI.
Audio from the entire episode, along with a map tracking the aircraft's route over Cape Cod and the Islands and its radio transmissions, can be viewed on YouTube:
Current News