Scholarship Fund Created To Honor Baxter Waldman: First Charity Event On June 4
David Creed •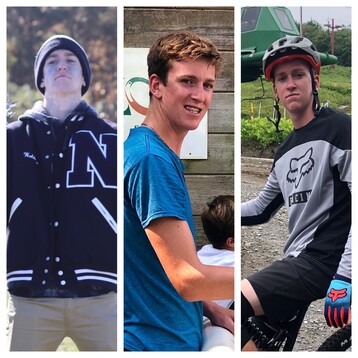 On Dec. 7, 2022 Baxter Waldman tragically lost his life at the age of 16 in a motorcycle accident, and Elise Norton lost her son. But Norton has not stopped, and will never stop, being Waldman's Mom. She wanted to find a way to keep his memory alive in a way that benefits the island community for years to come, and believes she has found a way.
In the nearly six months since the tragedy, Norton has been working with the Community Foundation For Nantucket to create the Baxter Waldman Memorial Scholarship Fund, and the first fundraising event for the fund will be a Charity Motorcycle Ride in Waldman's honor on June 4 at the VFW at 10 a.m.
"It is good to have this project, another project to be working on," Norton said. "Especially this project because it keeps my role as his mother alive. I can still be actively participating in my role as his Mom. It is a transition as I get used to the fact I don't have to cook his breakfast or do his laundry every day."
"The motivation came very much from how much he loved being a motorcyclist and how much he loved riding his bike and being a part of this community on Nantucket. We wanted to get the riders out here to come out and ride in his memory. I know we have a large community of people on this island who ride motorcycles."
There is a $50 registration fee for all motorcyclists and all the money raised will go towards the scholarship fund. There will also be a "Food Truck Fest" from 11-2 featuring four trucks: Snick Snack, Sushi Sean, Noemi's Dumplings, and Eat Fire Pizza. Norton said that each of the food trucks will be donating to the scholarship fund as well.
"The idea of the food fest is for people who don't ride," Norton said. "We created the community food truck fest portion of the event to give everyone the opportunity to come, get some lunch, and have some fun. Scott Capizzo will be DJ'ing. It is a whole community event – all-inclusive."
Norton said the idea to create this scholarship stems from Waldman's excitement to attend college.
"Going up to college was something Baxter was really excited about," Norton said. "He had already picked out the schools he was going to apply to. He had his vision and direction."
Norton said she is hoping scholarships can begin to be awarded next spring as the NHS Class of 2024, Waldman's class, prepares to graduate and finalize their college plans.
Waldman had a strong work ethic and developed a passion for working at the Nantucket Health Club. Norton said she wants the recipients of this award to be kids who may not necessarily have the best grades but display a strong work ethic like Waldman did.
"I wanted it to focus more on job and work experience rather than GPA," she said. "There are a lot of kids who have to work and have to have a job. Maybe sports aren't a priority, or even your grades are suffering a little bit because you need to go to work. I want those kids to feel that they have a strong running for a scholarship in the event they aren't in the running for others that are more GPA focused or school/sports focused. We are trying to fill a gap or niche that really fit Baxter's personality."
The number of scholarships that get handed out is still being determined. While it is unknown how much each will be, Norton said right now the estimate is around $2,000 for one year.
The biking route will begin at the VFW - head into town via the rotary to Orange Street - down Francis to Washington Street - back out past the strip on Broad Street before bikers ride past the Dreamland onto Main Street and then down Orange Street again - Then bikers will have an opportunity to cruise for a bit and head out onto Polpis Road - through Sconset - and then finish back at the VFW.
You can sign up for this event by clicking here.
Current News