Woman Rescued After Chasing Dog Into The Water
David Creed •
Coast Guard Station Brant Point, harbormaster Sheila Lucey, and public safety personnel responded to the Cliffside Beach Club area early Thursday morning and executed a rescue of a woman who reportedly fell off the jetty and into the water.

The woman was eventually located and after originally being designated as a priority 3 patient to be transported, declined transport to the hospital. The Nantucket Fire Department reported that the woman never went under water and was not complaining of any injuries or discomforts.
The incident began when the woman's dog, Willie, ran into the water as he was looking for birds. The woman went into the water after him but refused to leave the water unless the dog came with her. She left the scene with her husband, and Willie of course, unscathed.

"He swims offshore looking for birds and it's not uncommon for him to stay in the water for up to two hours," the woman's husband, who asked to remain anonymous, said. "The dog is obsessed with the ocean. We just called the Coast Guard to be precautionary because the water temperatures are so cold. Great to know we have services here including police fire, and Coast Guard."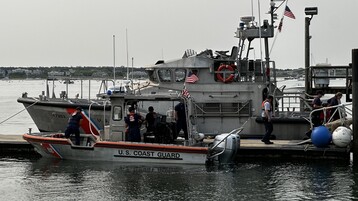 Current News