Current Nature: A Rare Beauty
Caylee Chan •
Have you noticed any purple flowers with bright yellow centers this summer? If you have, you've likely seen sandplain blue-eyed grass! Sisyrinchium fuscatum, more commonly known as sandplain blue-eyed grass, is a rare species of special concern according to the Massachusetts Endangered Species List. Despite its name, sandplain blue-eyed grass isn't a grass but rather a wildflower member of the iris family. It also has a yellow eye, not a blue one as its name also suggests.
Sandplain blue-eyed grass can be found along the Atlantic coast. Massachusetts and New York mark its northern border, but some isolated populations have been found in Nova Scotia. In Massachusetts, it's quite rare on the mainland, but particularly abundant on both Nantucket and Marth's Vineyard.
The wildflower's habitat is primarily sandplain grasslands, and it tends to prefer disturbed areas with full sun exposure. Sandplain grasslands are treeless habitats dominated by native grasses and a few shrubs. These grasslands tend to have sandy or dry, low-nutrient soils. Nantucket is lucky to have an abundance of these grasslands and the important biodiversity found within them. The southern part of the island is home to most of Nantucket's sandplain grasslands. Check out the Head of the Plains, Middle Moors, Smooth Hummocks, or Cisco to see this special habitat!
To identify this rare plant, you'll first want to go to one of Nantucket's sandplain grasslands. Then start to look for purple flowers with a yellow center and stiff, flat stems. The plant isn't super tall, typically 4" to 10", and tends to grow in dense tufts. In my experience, if you've found one there's usually more nearby. When sandplain blue-eyed grass is fruiting, you'll see the stems turn darker in color and small brown fruits hanging where the flowers once were.
Sandplain blue-eyed grass usually flowers from May to June/early June and starts fruiting from July to September. However, this year at the Linda Loring Nature Foundation, we noticed that it started flowering much earlier in May than is typical. Off-island, sandplain blue-eyed grass is about two weeks later than Nantucket in its flowering.
Habitat loss is one of the biggest threats to this plant. While it thrives in sandplain grasslands, those habitats are slowly disappearing due to development, natural succession, and the impacts of climate change. Also, like many other native species, sandplain blue-eyed grass faces competition from non-native invasive plants.
As part of the early-successional plant community, sandplain blue-eyed grass likes disturbance and thrives in areas that have been mildly disturbed. You can find them along trail edges, deer trails, and mowed areas. They even sometimes grow right in the middle of a trial!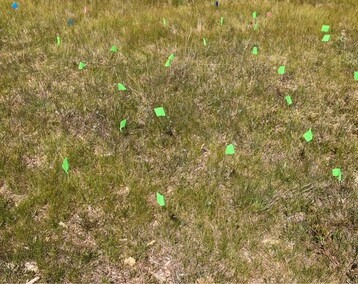 Because sandplain blue-eyed grass is listed as a species of special concern, we submit data to the Natural Heritage & Endangered Species Program to help monitor the population across the state. As we walk around the entire LLNF property, we place flags where we see flowers. Then we go back to each of the flags and record their GPS coordinates to know exactly where the plant is found on the property. We also record information on the surrounding habitat, soil, and any impacts to the plant. We've found around 3,000 wildflowers on our property! This data is useful because it helps the state know where sandplain blue-eyed grass is growing and thriving in Massachusetts and contributes to future management plans. It's important to know where exactly sandplain blue-eyed grass grows on Nantucket so we can protect and preserve this species because it's quite rare on the mainland.
If you come across some sandplain blue-eyed grass, please only admire it and take pictures because it is a species of special concern! And keep an eye out for another rare species that's going to bloom any time now: New England Blazing Star!
Stay tuned for more editions of Current Nature, a biweekly column from the Linda Loring Nature Foundation featuring seasonal topics, natural history information, and advice on the outdoors!
Current News