Despite Turmoil, Lone Fire Chief Finalist Still Wants The Job
Jason Graziadei •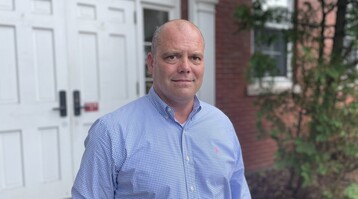 Michael Cranson is fully aware of the drama swirling around the search for Nantucket's next fire chief. But he still wants the job nonetheless.
"All I know, and what I can tell you, is that I'm prepared to step in and calm things down and provide some stability for the department," Cranson told the Current on Tuesday during his brief visit to the island. "And level the playing field."
Cranson, 50, is the lone finalist for the Nantucket Fire Department chief's position after the other finalist dropped out on Monday. The former fire chief of Portsmouth, Rhode Island, Cranson has spent his life in the fire service, and believes he still has another 10 to 15 years to give. And he hopes that those years are spent on Nantucket.
"Someone mentioned the Nantucket job was coming up, and I said I've never been there but I know it's a lot like Newport (Rhode Island)," Cranson said. "I said this looks like a good fit."
During his quick trip to Nantucket on Tuesday, Cranson sat down with the Current for a brief interview amid a slew of meetings with town officials and others in one of the final steps of the search process.
Cranson said he joined the fire department at the age of 19, and it's been a part of his life ever since. More than three decades later, Cranson said he's still passionate about the fire service, and with his seven adult children now into their 20s and 30s, he called the Nantucket fire chief job "a perfect opportunity."
He said he is aware that the community is rallying behind Nantucket Deputy Fire Chief Sean Mitchell, as well as the Nantucket fire union's "stand down" request to outside candidates, urging them not to apply. But Cranson said he would remain a candidate and consider the town's offer should it make one to him.
He confirmed, however, that he is also applying to other fire chief openings, and remains a candidate for jobs elsewhere on the mainland.
While he acknowledged the Nantucket Fire Department faces unique challenges – including housing for its employees and the lack of prompt mutual aid from other departments – he said it has a "rich history" that he wants to be a part of.
What would be the first order of business should he get the job?
"We need to be ready to respond to emergencies, we need to be sure we're safe, that we are compliant with standards, and do our policies need to be updated?," he said. "I want to identify who the leaders of the department are. Nobody coming in as an outsider or an insider are successful without the people around them. The fire service is very much a brotherhood and a sisterhood. Going to calls and being able to have a positive influence on someone who is having the worst day of their life is exceptionally rewarding."
Current News