Explosion Causes Fire In Basement Of Sconset Vacation Home
Jason Graziadei •
An explosion at a recently completed home in Sconset started a fire in the basement of the unoccupied structure around noon on Thursday, prompting a large response from the Nantucket Fire Department.
There were no injuries reported as a result of the incident, and firefighters were able to confine the blaze to the finished basement of the five-bedroom, 3,200-square-foot home at 7 Cannonbury Lane. The cause of the explosion remains unknown at this time, but the incident is under investigation.
"Our Engine 4 arrived, opened the front door and had heavy smoke billowing out of the vents," fire chief Michael Cranson said. "Crews entered the home, found the fire in the basement area and extinguished it with a single hand line."
Workers in the area told the Current that the backdoor of the structure had been blown off its hinges and onto the covered pool in the backyard by the explosion. The home - which is adorned with the quarterboard "At Last" - is part of Blue Flag Partners' Cannonbury subdivision in Sconset. The lot was sold for $1.09 million in September 2020 to a limited liability company registered to Peter and Amanda Mortimer, of California.
"There appears to have been some sort of explosion in the home prior to our arrival based on the damage we found," Cranson said. "The cause of the fire is under investigation. There were no injuries to civilians or firefighters, and the firefighters did a great job confining the fire to the basement."
The fire department's response included: two engines, a ladder truck, an ambulance, along with deputy chief Sean Mitchell and Cranson. Snooky Eldridge, a former firefighter who lives in Sconset, also responded, along with Nat Lowell, of Yates Gas, town plumbing inspector Doug Bennett, and National Grid staff.
The home is listed for rent on several local real estate sites for as much as $30,000 per week.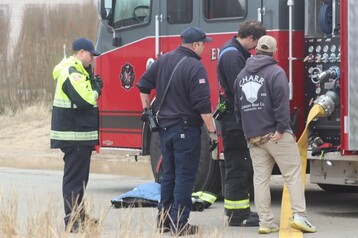 Current News