Five Hospitalized, Including Three Children, After Vintage Bronco Rolls Over
Jason Graziadei •
Five people were hospitalized Saturday afternoon when a vintage Ford Bronco rolled over on Bartlett Road.
The passengers included three children, who were spotted walking and talking to EMTs and police at the scene. The kids - ages 4, 7, and 9 - looked shaken but appeared to have escaped without significant injuries. It is believed they were wearing seat belts.
A female adult passenger was taken away on a stretcher, while the male adult passenger was up and talking to EMTs with a bloody head wound. It's unclear who was driving the vehicle.
The Ford Bronco with Florida plates was the only vehicle involved in the crash. A witness told the Current the vehicle took the turn at the end of Bartlett, hit the gas, and fish-tailed before rolling over twice. He said the children appeared to be ok after the vehicle came to a rest.
Bartlett Road was closed to traffic in both directions near the site of the crash for more than an hour. Two ambulances, heavy rescue and Nantucket Police all responded, along with a tow truck.
It's not yet clear if any charges will be filed as a result of the crash.
Update: Sunday, July 30th, 11 a.m. | Shared from a family member: "Kids are home with their grandma, Sarah was transferred to Boston for surgery on her hand, her husband is with her. The kids are physically ok, just some scrapes. Thank God."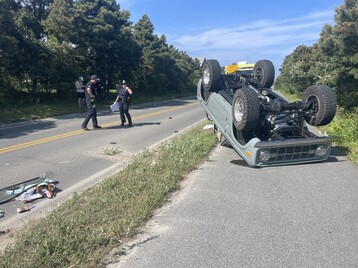 Current News