Nantucket Awakes To Legendary April Fools' Day Prank
Jason Graziadei •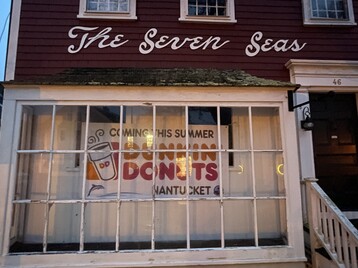 No, Dunkin' Donuts isn't coming to Nantucket. But the island awoke Friday morning to a legendary April Fools' Day joke executed at the former Seven Seas Gift Shop on Centre Street. Hanging in the display window was a large banner that reads "Coming This Summer Dunkin' Donuts Nantucket."
The perpetrator(s) of the gag are still unknown at this time, but the joke has set the Internet on fire with comments - some howling with laughter and others - not realizing the date - expressing outrage that the chain store could open a franchise on Nantucket. Even New England Patriots head coach Bill Belichick wasn't spared:
The island, of course, has a ban on chain stores in the core downtown district, a bylaw which has been on the books since 2006.
The fact that the prankster(s) chose one of the most historic structures on Nantucket - the former home of Captain George Pollard of the whaleship Essex which inspired Herman Melville to write Moby Dick - only added to the jest.
All we have to say is, well played. Well played.
Current News