Nantaco Opens Its Doors Downtown Following Ceremony
David Creed •
Nantaco officially opened its doors Thursday afternoon just after 3 p.m. following a ribbon cutting ceremony, giving downtown Nantucket a Mexican food option just as summer arrives.
Nantaco will be open seven days per week, offering breakfast, lunch, and dinner. The taqueria will stay open all the way until 2 a.m. Their hours for the Fourth of July weekend will be 5-10 p.m., with in-person orders available only.
Owner Lee Milazzo told the Current in February he felt like downtown Nantucket could benefit from having a place like Nantaco.
"I feel there is a need for a place like this downtown," he said. "As a business owner, whenever I go out to get lunch, there's limited options for things that are good, fast, and not terribly expensive. There's a number of amazing places to eat, but sometimes I don't have an hour to sit down for lunch."
Below are some photos from the ceremony and the menu.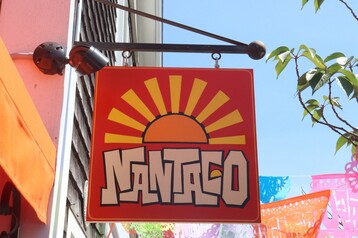 Current News