Nantucket Kite Boarder Rescues Rare Kemp's Ridley Sea Turtle
Nantucket Current •
An island kite boarder helped rescue a cold-stunned Kemp's Ridley sea turtle, the world's rarest and most endangered species of sea turtle, on Saturday near Jetties Beach.
Nantucket resident Michael Hajjar was kite boarding near the outer sandbars of Jetties Beach, and as he was headed back in near Hinckley Lane, he spotted the cold-stunned turtle, according to the Marine Mammal Alliance Nantucket (MMAN).
Hajjar called MMAN's hotline to report the turtle, and was instructed to move it up to the high tide line, cover it with seaweed, and mark it with a stick or debris.
MMAN members Rain Harbison and Blair Perkins responded to retrieve the turtle, then kept it safe overnight until the boats were running again on Sunday. At that point, the turtle was transported via the Hy-Line Cruises ferry to Hyannis and into the custody of staff from Mass Audubon's Wellfleet Bay Wildlife Sanctuary.
The MMAN volunteers have so far rescued eight cold-stunned sea turtles around Nantucket, but this was the first Kemp's Ridley sea turtle to be discovered.
"Kudos to Mike for having his phone in his wetsuit for emergencies, our number in his contacts and a the big heart to call for help," MMAN announced on Monday. "This little guy will be cared for by New England Aquarium and released into warmer waters once he/she recovers."
If you see a cold-stunned or stranded turtle, or any other injured, entangled or deceased marine mammal on Nantucket, call the MMAN hotline at 1-833-667-6626 for immediate assistance and response.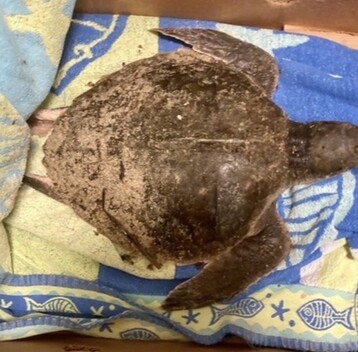 Current News