Nantucket's Rossini Club Summer Performances To Honor Ned Rorem And György Ligeti
Lola Piuggi •
Nick Davies, founder of The Rossini Club, Nantucket's Own Chamber Music Festival, said the music collective's upcoming summer slate of performances will be both interesting and special following the passing of Pulitzer Prize-winning composer and island homeowner, Ned Rorem, who died late last year.
"I think we are the only group on the island that is doing a series of tribute concerts for him," Davies said. While Rorem wasn't originally from Nantucket, he called the island his home.
This year The Rossini Club's festival will honor Rorem, as well as composer György Ligeti, with a series of four concerts starting Thursday, July 27.
Rorem, known for both his art songs and lurid diaries, owned a home on West Chester Street on Nantucket for decades and wrote music about or dedicated to the island.
This year also marks what would have been Ligeti's 100th birthday.
"For such a cultured and affluent place like Nantucket, it is really weird to me we don't have a more vibrant classical music scene," Davies said. He hopes these kinds of festivals will cultivate Nantucket's classical music community.
The first concert is on Thursday, July 27th, "The Devil's Staircase" will be held at St. Paul's Episcopal Church on Fair Street. Davies wants to highlight this event because it is being presented by the Nantucket Interfaith Council to benefit the Nantucket Food, Fuel and Rental Assistance (NFFRA) organization. Tickets are $30 and the concert is from 7:00 p.m. to 8:30 p.m.
In "The Devil's Staircase," veteran Rossini Club pianist Wesley Ducote will present a "diabolically curated recital featuring György Ligeti's infamously challenging piano Études paired with complementary works ranging from Chopin's own Études to Debussy's Préludes.Nantucket organist Isaiah Williams will open the concert with Ligeti's experimental organ work Volumnia, presented on the beautiful organ at the First Congregational Church."
For more information and to buy tickets check out their website.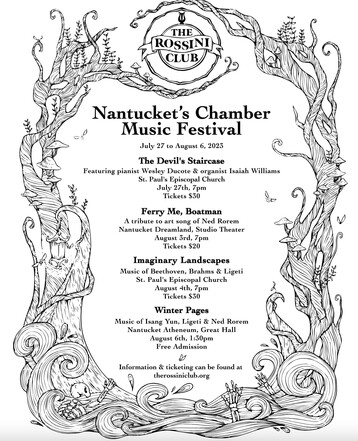 Current News