New Year's Eve Chinese Food Delivery Crisis Averted Thanks To Cape Air, Hy-Line
Jason Graziadei •
After Cape Air's only flight to Nantucket was canceled due to fog on New Year's Eve, more than 20 orders of Chinese food bound for the island were left in limbo. But that's when Cape Air's Nantucket station manager, Johann Rodriguez, hatched a plan.
The airline staff got in touch with Hy-Line Cruises and then shuttled the orders to the dock in Hyannis, onto the ferry, and had them delivered to Straight Wharf by boat instead.
"We ended up with four carts of Chinese food total bound for Nantucket on the 3:05 p.m. boat," said Hy-Line Cruises' Liz Holland. "Another example of working together! Cape Air's manager got in touch with me and we put it in motion!"
A Cape Air employee on Nantucket - Valerie Garcia - picked up all the orders from the Hy-Line luggage carts on Straight Wharf in the pouring rain to shuttle them to Nantucket Memorial Airport for pick up, and the airline waived the delivery charge.
And so Nantucket's tradition of Chinese food on New Year's Eve lives on for another year.
"Teamwork makes the dream work," Rodriguez said. "So grateful for everyone that helped make this possible today after 'The Gray Lady' decided to join us for New Year's Eve!"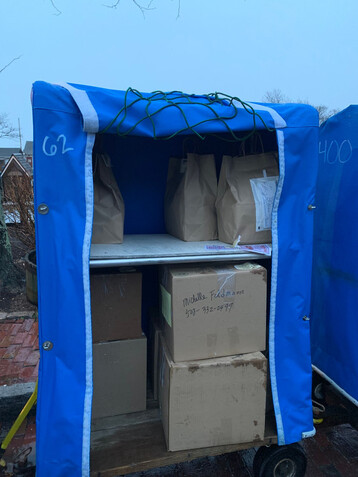 Current News