Photo Gallery: 2022 Downtown Water Fight
David Creed •
The annual downtown water fight on Main Street returned on Monday after a two-year hiatus due to the pandemic, albeit in a much different style. The Nantucket Fire Department took on the Boynton Lane Reserves, with hundreds of spectators caught in the crossfire.
The water fight was a little more subdued than in previous years after public safety concerns prompted the town to erect barriers on either side of Main Street to control the crowd, and urged attendees not to bring their own water guns, balloons or other devices. But a great time was had by all nonetheless.
Below are some photos from Monday's event.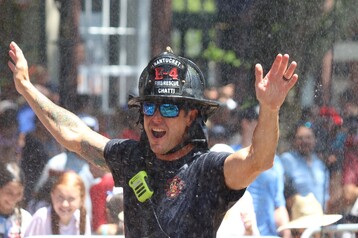 Photography by David Creed
Current News