Photo Gallery: NFD Honors Memory Of Late Firefighter
Nantucket Current •
The Nantucket Fire Department completed a beautiful ceremony late Tuesday afternoon honoring the late Jamie Topham, who was a member of the department. He passed away unexpectedly Monday morning.
Several engines and public safety vehicles completed an escort from the Nantucket Cottage Hospital to the Steamship Authority, where Topham was taken off-island.
A strong turnout from the island community packed the streets of Easy and Broad, with many walking over to the Steamship ramp to accompany the NFD as they honored Topham's memory while showing support to the Topham and Hertz/Marks families.
Below are some photos taken of the ceremony. The link to a GoFundMe that is raising funds to honor the Topham family can be accessed here.
Fairwinds Counseling Center offers many resources to the island, and a list of those services can be accessed by clicking here. The Fairwinds Crisis Response team also responds to anyone, anywhere in the island community 24/7. You can reach their Mental Health Crisis Response Hotline by calling 508-221-3315.
Other available hotlines include the following:

● National Suicide Prevention Lifeline – (800) 273-8255
● Veteran's Crisis Line – (800) 273-8255
● Youth Crisis Support Free Text 741-741 and type "start"
● Samaritans of Cape Cod and the Islands – (800) 893-9900
● LGBTQ Helpline – (866) 488-7386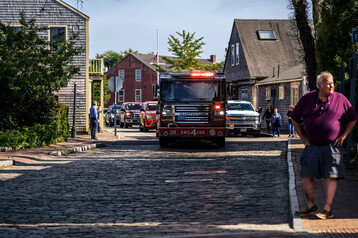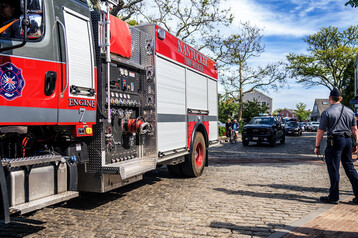 Current News