Police Determine Cause Of Fatal E-Bike Accident
Jason Graziadei •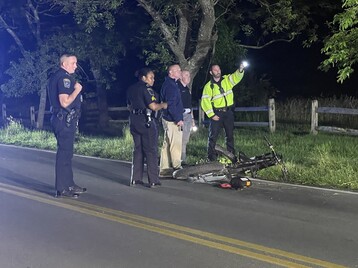 The fatal e-bike crash on Vesper Lane last Wednesday was the result of the bicyclist colliding with a mailbox and did not involve a hit-and-run, the Nantucket Police Department has determined following an investigation completed this week.
The accident claimed the life of Shay Deverse, the general manager of the Main Street restaurant Lemon Press. Deverse was flown off-island by Medflight helicopter to a Boston hospital early last Wednesday morning but died as a result of the injuries sustained in the crash.
Nantucket Police Department Lt. Angus MacVicar said the investigation is now closed unless further information comes to light.
"It's a single bicycle accident, and it involved nothing other than the operator and the bicycle he was operating and a mailbox," MacVicar said. "It is believed at this time that the bicycle hit the mailbox."
MacVicar said he was unsure whether Deverse was wearing a helmet at the time of the accident. It was also unknown if speed was a factor, or if drugs or alcohol were involved. A toxicology report is still pending, MacVicar said.
"It's really an unfortunate situation," he said. "We made the determination of what occurred by doing an extensive investigation that involved multiple cameras throughout the area and also speaking with anyone related to any prior activity before the accident occurred."
MacVicar also did not have information on the nature of the fatal injuries Deverse sustained in the crash.
"The Lemon Press family mourns the loss of one of our own, as we said goodbye to our general manager, Shay Deverse, yesterday," the restaurant stated on its social media accounts over the weekend. "Many of you knew Shay to be the friendly face that greeted you when you came through the door. He was a valuable member of our team and his tragic passing reminds us how precious this life is."
Lemon Press will be closed today, Tuesday, June 27th, to allow its staff "a day of rest and reflection in the wake of this loss."
Two island residents who were driving home from town last Wednesday came upon Deverse in the roadway about 100 yards away from the entrance to Nantucket Cottage Hospital and alerted authorities.
The two witnesses at the scene told the Current they came upon the man face down and unresponsive on Vesper Lane next to an e-bike. First responders administered CPR before he was transported by ambulance to the hospital, and then by Medflight off-island.
Current News