President Biden Visits Nantucket Fire Department On Thanksgiving
Ahead of their Thanksgiving meal, President Joe Biden and First Lady Jill Biden visited the Nantucket Fire Department today and thanked the island's firefighters for their service. The Presidential motorcade brought the Bidens to the rear of the firehouse, where President Biden - wearing his signature aviator sunglasses - shook hands and took photos while chatting with the crew.
New fire chief Michael Cranson presented Biden with a Nantucket Local 2509 fire union hat, and the firefighters gave Biden's grandson Beau a kid's firefighter hat. "You're the best. The very best," Biden could be heard telling the firefighters as he recalled growing up near a firehouse in Scranton, Pennsylvania. "Everyone I knew grew up to be a cop, a firefighter or a priest," he said. The Bidens gave the firefighters pumpkin pies from Pie Shop in Washington D.C.
Biden also talked extensively with NFD Captain Nate Barber, and presented him with a signed copy of the winter issue of N Magazine that features Barber on the cover as Nantucket's "Person of the Year" The personal note from Joe and Jill Biden to Barber read "Nate - God made man, then he made a few firefighters."
The Bidens later returned to the waterfront compound of David Rubenstein where they are staying for the week, and were expected to call military service members before enjoying a traditional turkey dinner prepared by Bill and Kim Puder at Faregrounds Restaurant, along with carrot cake, apple pie, pumpkin pie, and morning buns from Wicked Island Bakery.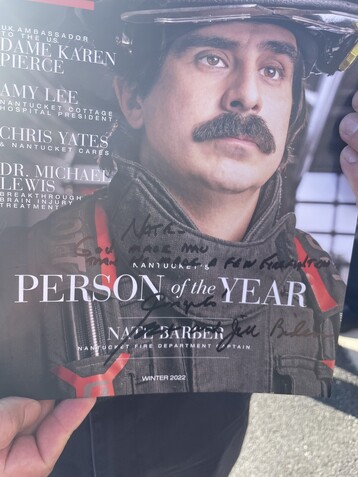 Current News