Red Flag Day: Scallop Fishery Closed Friday For Emergency Seed Relocation
Jason Graziadei •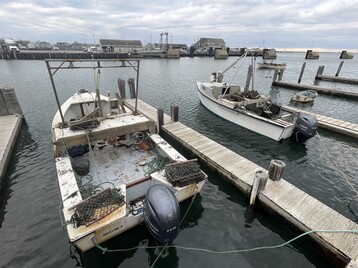 Nantucket's bay scallop fishery will be shut down on Friday, as the town's Natural Resources Department is calling for all hands on deck to assist with an effort to move seed scallops at risk of stranding from the shallow waters of Nantucket Harbor.
An unprecedented amount of seed (juvenile scallops) has been observed in the harbor over the fall, and scallopers and town officials have noticed a large concentration of it in the shallow waters near Quaise and Wauwinet. The concern is that these scallops - which they hope will survive and continue to grow into next year's crop - could easily strand on the beach during a storm.
So the island's scalloping fleet will be out on the water dropping their dredges in those areas on Friday, but won't be bringing any scallops back to the dock. Instead, they'll be gathering thousands - perhaps millions - of seed scallops onto their boats and then dropping them back into the deeper waters of the harbor.
Red flags will be flying Friday at the town pier and at Jackson Point pier in Madaekt - indicating scalloping is prohibited - an occurrence usually reserved for when the temperature drops below 28F degrees. The preventative measure at the very start
"To my knowledge, the fishery has never been shut down for this reason," said Samantha Denette, the executive director of the Nantucket Shellfish Association. "We've never had this much scallop seed. So this is uncharted territory."

Jeff Carlson, director of the town's Natural Resources Department, described it as a "shallow water stranding" that was significant enough to lead some of the island's scallopers themselves to raise the possibility of taking a day to move the seed out of danger. Carlson said there was widespread buy-in between his department, scallopers, and the Nantucket Shellfish Association (NSA) with regard to the unusual move.
"We were approached by a group of commercial scallopers and the NSA and they said we see a need," Carlson said. "We started to poll the fleet and had a great amount of buy-in. It's been a great collaboration."
The sheer amount of scallop seed, Carlson emphasized, warrants taking action.
"We've seen numbers, to be perfectly honest, that no one anywhere has ever seen," Carlson said. "it's a blessing we should probably protect and do our best to make sure it makes it to next season."
While the various groups involved in the fishery appeared to be mostly supportive of the decision to shut down for the day and united in the effort to move the at-risk seed, Denette emphasized that there were economic considerations in play for scallopers, openers and others deriving their income from the fishery.

Such efforts to move seed in the past have included a reward for those scallopers who participated in the form of a coupon from the shellfish warden allowing them to take an extra bushel of scallops, but no such compensation is being offered Friday. All scallopers will be losing a day of income, and those who participate will also be covering their own fuel expenses.
The payoff down the line, however, could be significant if those scallops survive and make it to next season.
"I agree with the Natural Resources Department that it's an important thing to do for the health of scallops and the sustainability of the scallop population, but where my concern is is what does it mean for the economic viability and future of the scallop fishery if this is going to be a regular occurrence?" Denette said. "We support all plans that can benefit the harbor and our scallop population. If we're committed to a sustainable fishery, there's also an economic component to consider and closing down for a day and taking away their opportunity to make a living in an already short season is cause for concern. I don't want to see this become a regular thing of throwing up the flag and closing the fishery."
Denette said she expects eight to 12 boats to be participating today. One member of the island's fleet who will be joining the effort is Jim Sjolund, a scalloper and member of the town's Harbor & Shellfish Advisory Board.
"I hope it gets the participation that is needed," Sjolund said. "It's not fun to lose a day without some kind of compensation. It could be a big loss in the future if a lot went on the beach though. Happy to see that there is this amount of seed in the harbor for next year."
One scalloper who won't be out there on Friday is Dan Pronk, who questioned the town's authority to shut down the fishery for this reason, and emphasized the loss of income to everyone involved in the fishery.
"My biggest problem - and most peoples' - is you're taking a day of fishing away from us that we're not going to get back," Pronk said. "I estimate that's 50 to 75 people losing a day of work between the scallopers and openers. And to double-down on that, they expect us to go fishing, lose money because we have to pay for the fuel, while they're (town staff) getting paid."
Pronk suggested doing it on a Saturday when no fishing is allowed anyway. Sjolund and Carlson both said that option was discussed, but there was concern that doing it on a weekend after five days of fishing might decrease the turnout.

Current News