Select Board Decouples Short-Term Rental Bylaw Proposals
JohnCarl McGrady •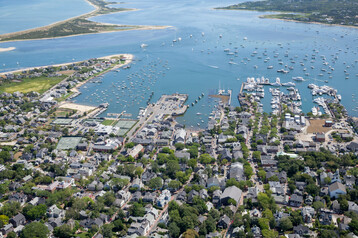 The Select Board ratified its adoption of the warrant for November's Special Town Meeting Wednesday morning after reviewing several changes to the Short-Term Rental Work Group's proposed regulations for short-term vacation rentals on Nantucket. Most notably, the Select Board approved a change decoupling the general bylaw containing the bulk of the regulations from the zoning article that would legalize short-term rentals (STRs) by right across the island.
The general bylaw only requires a majority of votes to pass at Town Meeting, a much lower threshold than the two-thirds required to pass the zoning bylaw. Additionally, if voters, like Select Board member Matt Fee, are primarily opposed to the provisions of the zoning bylaw, they can now split their votes without worrying that the zoning bylaw failing will doom the regulations in the general bylaw as well.
"I think it would be helpful to have the general bylaw in place so we can get the attorney general's ruling on it and begin to set up the proper infrastructure for enforcement regardless of what happens to the zoning," Select Board Vice Chair Brooke Mohr said.
"This does seem like an awful lot of work and good stuff in here to lose by making them both contingent on both of them passing," Select Board member Tom Dixon said.
The change passed 3-1 with Malcolm MacNab, who has remained staunchly opposed to the regulations, opposed and Chair Dawn Hill Holdgate recused. But not everyone was happy with the revision.
"We wanted it to be all or nothing," said former Work Group member Kathy Baird, who represented the group Nantucket Together. "That was the lynchpin. That was why I was able to vote yes. If they hadn't been linked, I would have had to vote no."
Had the articles been decoupled from the start, they likely never would have achieved the consensus necessary to emerge from the Work Group. For Work Group members like Baird, the zoning bylaw, which is structured to remove the legal jeopardy facing STR operators by ensuring STRs are a protected use across the island in all zoning districts, is one of the main reasons the rest of the regulations are worth supporting.
"I think there is a zoning thing we can get to, but I'm looking at this as take one bite at a time," Fee said. "If we try to eat the whole elephant, we're not going to finish."
In the unlikely event the zoning bylaw achieves two-thirds support while the general bylaw fails, it will not become law. The decoupling only goes one way, and the zoning bylaw is still contingent on the rest of the regulations.

Current News