Boys & Girls Lacrosse Seasons Come To An End In State Quarterfinals Capping Off Successful Year Of Sports
David Creed •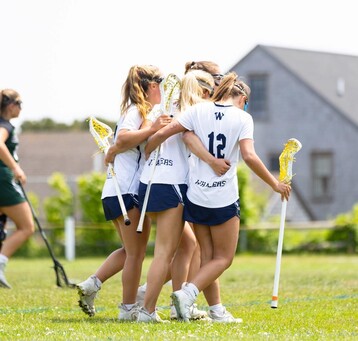 Sunday marked the end of the 2022-2023 Nantucket Sports Year with girls and boys lacrosse losing in the state quarterfinals. The boys tennis team, who also made the state quarterfinal, lost on Friday as well.
It began with the girls, who lost at home to Manchester Essex 10-4 in the state quarterfinal. Nantucket was the #4 seed while Manchester Essex was #5. It was the second consecutive season the Whaler's season has come to an end at the hands of the Hornets after losing to them in the state semifinals last June 10-6.
The Whalers will return almost all of their starters in 2024, including their big three up front offensively in Bailey Lower, Emerson Pekarcik, and Cydney Mosscrop - who will be entering their senior seasons next spring. The team is also supported with several players who will be entering their junior seasons such as Maddie Lombardi, Mayson Lower, and Suz Peraner.
Claire Misurelli, the team's goalie, made significant strides as this season went along. Misurelli will be entering her senior year next spring and with it being her second season in net, should only continue to get better.
As for the boys lacrosse team, they lost in the Div. 4 state quarterfinal for a second straight season. After losing to Sandwich 8-2 in 2022, the Whalers traveled to Dover-Sherborn this year to play the Raiders, who were ranked #3 in the Div. 4 state tournament.
The Whalers were ranked #6 in this year's tournament and were playing some of their best lacrosse of the year entering Sunday's game, but ultimately lost 10-3.

All eyes are now on the spring of 2024 with most of the Whaler's team returning. There will be some key pieces to replace, most notably senior midfielder Sean Murphy and senior defense midfielder Luke Stringer. But the Whalers will be returning a strong core of juniors including leading scorers Cole Chambers, Jack Halik, and Colby O'Keefe on offense and long poles Griffin Starr and Hunter Strojny on defense. The team also has a strong freshman class which is led by attacker Arann Hanlon, goalie Jeremy Jenkinson, and midfielder/defender Owen Sullivan.
On Friday, the boys tennis team traveled for their state quarterfinal game. They hoped to continue their promising season but it came to an abrupt end following a 5-0 defeat to the #2 seeded Cohasset Skippers.
The Whalers, ranked #7 in this year's tournament, made the state quarterfinal after beating Seekonk in the Round of 32 and Hopedale in the Round of 16.
Led by head coach David Cheever, the Whalers have built solid depth in their lineup. They will need to replace valuable leaders such as first single Quinn Keating and doubles contributors Aidan Sullivan and Hunter Gross. But the Whalers have a solid core including Boyan Kalpazanov, Henry Kathawala, and Nik Krastev expected to lead the way heading into the spring of 2024.
After a bright 2023 season, the future may be even brighter.
All three teams above had successful seasons, but they were far from being the only teams to go on deep tournament runs this year. Five teams made it to their respective state quarterfinals: Volleyball, Boys Hockey, Boys Tennis, Girls Lacrosse, and Boys Lacrosse. The boys hockey team had the deepest tournament run - making it to the state semifinals for the first time in program history.
Another successful and promising season came in the fall with the varsity golf team, anchored by their new leader and head coach Sam Herrick. Hal Herrick, Danno Lynch, and former head coach Nate Roberts made up the rest of his coaching staff.
The golf team went 11-5 and placed eighth in sectionals. Individually, junior Henry Kathawala placed second out of 51 golfers at the Willowbend Cup Championship tournament in the Cape back in October - shooting a 75. The golf team, like many Whaler teams, will be made up of a strong senior core next season with Kathawala being one of 10 returning golfers.
Nantucket sports will need to replace key members of their team following the departure of athletes in the NHS Class of 2023 - But with the Class of 2024 being as talented as it is, more success can be expected once the 2023-2024 Whaler sports season begins.
The Current will have you covered when that time comes but until then, we hope everyone enjoys their summer!
Current Sports