Boys Hockey Hands Undefeated Dennis-Yarmouth First Loss Of The Season
David Creed •
The Whaler boys hockey team traveled to Dennis-Yarmouth Monday evening to take on the undefeated, 7-0-1 Dolphins at Tony Kent Arena. The Dolphins were just one of the three remaining undefeated Div. 4 hockey teams across the state, but Nantucket handed DY their first loss of the season in convincing fashion, winning the game 3-1 while scoring three unanswered goals.
"I couldn't have asked anymore of any of these guys because they all stepped up and did what they needed to do," head coach Jack Moran said.
Nantucket improved their record to 3-4 and did so without their leading scorer through six games, Canton Jenkinson, available as he was out of the lineup sick. It was junior center Ryan Davis stepping up as he has all season with a two-goal, three-point night to dethrone Jenkinson as the team's leader in points with eight (five goals and three assists).
"Little bit of a concern there because we were trying to figure out how to make the lines balanced," Moran said. "We had been talking about taking Jeremy (Jenkinson) and swapping him with Canton to make our two lines more effective. Today we got a dry run of (Jeremy on the first line) and it worked out pretty well."

The Whalers had a brief burst to begin the game with their forecheck, but as the period went on DY began to control the pace. The Dolphins killed off an early Nantucket power play and nearly scored on a breakaway right after, but Whaler goalie Griffin Starr was up to the task and turned the shot away.
DY got a power play midway through the first period and eventually Cam Dupee scored to give the Dolphins an early 1-0 lead.
The score stood at 1-0 after one and Nantucket came out with plenty of energy to begin the second period. Their forecheck looked strong and they hemmed the Dolphins in their own end. Davis was called for a penalty about four minutes into the second period, but the Whalers killed it off and avoided handing momentum right back over to DY.
The ice continued to be tilted in Nantucket's favor even after being temporarily down a man, but the Whalers were called for another penalty shortly after. DY was unable to score before committing a penalty of their own that set up 38 seconds of four-on-four play.
As the Whalers were about to get 1:22 of power play time, the Dolphins were called for another penalty which gave Nantucket a two-man advantage for over a minute. Junior defenseman Braden Knapp wouldn't let the opportunity go to waste and was able to score the equalizer with just over four minutes left in the period.
Nantucket remained on the power play since the goal was scored during five-on-three time, but DY was able to kill it off. Nantucket kept the pressure on and drew another penalty three minutes later. With Starr pulled to bring an extra skater on for the delayed penalty, it was Davis scoring his fourth goal of the season to give the Whalers a 2-1 lead with 1:22 to go in the second period.
"It was a little bit more physical like we wanted it to be towards the end of the second period and the third period," Moran said. "They were starting to play good, physical play and you could kind of see that causing DY to see them coming a little bit and being a little bit more nervous I guess you could say as they got towards the puck, which gave us that split second of extra time to get on them."
Nantucket was 15 minutes away from an impressive victory and Davis gave his team some insurance quickly to begin the third. Just 31 seconds in, he ripped a shot bar-down over the Dolphin goalie's glove to make it a 3-1 game.
Much of the third period consisted of special teams play as both Nantucket and DY had to kill off penalties in the final frame. There were six penalties in the third period (three by each team) as the game got more physical but both teams were able to survive their penalties.
Nantucket kept their foot on the gas until the final horn and walked out of Tony Kent Arena with a win to improve their record to 3-4.
"Everyone stepped up and we all knew that with such a short squad that we have, in losing one of the guys who is one of our top six players, it could be hard. But it ended up working out really well thank God," Moran said.Knapp found himself back at forward in this game with Jenkinson out of the lineup and his second period goal was the first of his season. Knapp now has one goal and five assists for six points through seven games.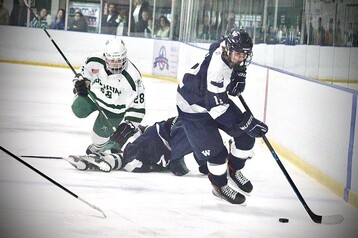 Freshman Andrew Lavin was called upon to play some meaningful minutes in this one with Knapp moving up to forward. Head coach Jack Moran Sr. said he was proud of how Lavin played and filled his role. Lavin also finished with an assist on Davis' first goal.
"Andrew did a really great job and stepped up for us back there," Moran said.
Nantucket will be back in action on Saturday when they play St. John Paul II at 3 p.m. The first MIAA tournament brackets will be released on Friday, so check back in with the Current for updates on where the Whalers stand as we approach the midway point of the season.
Current Sports