Boys Hockey Looking To Keep Success Going Under New Regime
David Creed •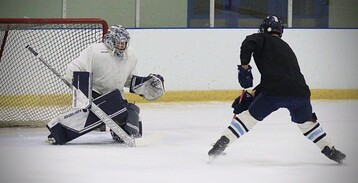 The Nantucket boys hockey team was unable to win a state championship last season, but they still made it to the Elite Eight of the MIAA Div. 4 state tournament after beating Martha's Vineyard on the road in overtime. In other words, the season was a success.
This season will feature many changes however. The team graduated many players from last year and will be adjusting to a change in the coaching staff after head coach Scott Corbett and assistant coach Bob Hickman stepped down from their positions after an excellent four year run where they went 42-27-9, had three tournament appearances in as many eligible seasons, and a C&I League Championship in the year the state tournament was cancelled due to COVID.
This season Jack Moran Sr. will be the head coach. Moran has a proven track record of being an excellent coach for this program. He was the team's head coach during their inaugural season in 2008 and held the position until 2016. He said he and his coaching staff have liked what they have seen from this group, calling them some of the hardest working kids they have ever been around.
"I got to tell you, they have impressed us tremendously," Moran said. "We were a little nervous coming in because we didn't really know anything about the players, their work ethic, or anything like that. We were kind of coming in blind and thinking it may have to be a total overhaul. But honestly these guys have been that hidden gem, the diamond in the rough. We only have 16 kids and every single one of them has stepped up. They don't complain. They do what they are told. They do it with enthusiasm, and it is really good to see especially nowadays. I hate to sound old but this generation you don't see that a lot. You see a lot of laziness and really not a lot of drive, but these kids are really putting that theory to shame."
The team will be led by senior winger Jack Billings, junior goalie Griffin Starr, and junior defenseman Michael Culkins. Billings will wear the 'C' while Starr and Culkins wear the 'A.'
This group isn't expected to be as deep as last year, but the high-end talent is there. Junior center Ryan Davis has the potential to be the team's leading scorer. The Jenkinson brothers, Canton and Jeremy, both showed plenty of upside last season.
"The top two lines will be the most active to start because the third line is the kids probably least experienced," Moran said. "We want to get them working their way up to that level they need to be in to play varsity. The great thing about our top two lines is that they are interchangeable. They haven't been set in stone yet but if we have a problem on one line, we can just drop a player down one line and move someone up."
Moran said having this kind of flexibility in his top six will make his job much easier.
"All six of our top guys are really, really good," he said. "It does your heart good to have something like that. It is like if somebody just gave you the keys to the 63' Chevy Corvette; we are ready to rock. This is fun. It really is."
Culkins will anchor the defense with junior Braden Knapp moving back to play defense after playing forward last year. Moran has been very impressed with both players and feels they will do a good job leading a defense core that also includes junior Hunter Strojny.
"When I look at Culkins and Knapp we could either pair them up or split them up to balance our pairings," Moran said. "As it sits right now it looks like we will have five defensemen because one player volunteered to be our backup goalie, which is huge. Then regarding Hunter, he is really good at his craft. He is a hard skater and has a high hockey IQ. He sees the ice well."
In net it will be Starr once again. Moran said Starr is a one-of-a-kind goalie who does everything well.
"He stands on his head here for us but even outside of this rink he is doing things on his own to perfect his skill," he said. "All summer long he worked with different trainers and stuff just so he could get that extra edge that he needs. It is really hard for him now because he is getting peppered and the only guy we can shoot on right now. I tell him if you need to take a break you take one. You tell us because we will keep you in there, but we don't want to wear you down. That kid is something else man."
Moran is hoping his team is one that is respected by every team that laces up the skates against them. He wants his team to be one that plays hard every minute of every game while staying away from bad penalties.
"I don't want to be known as a nasty team. We have played against those in the past. I refuse to let this team become something like that," Moran said. "I want them to be sportsman. I want them to win, and I want them to win the right way. I want people to be proud of them and how they are representing the community."
"The first thing that comes to my mind when I think of these kids is speed. They are fast. We aren't an overly big team in terms of carrying weight around, throwing bodies around. We are kind of getting away from that now. Hockey has changed over the past 10 years. Speed is the name of the game. Getting from one end to the other, getting into the offensive zone, ripping shots, backchecking, and those guys epitomize all of that. They skate hard and play hard."
Moran said he is excited to continue working with these players and their commitment to being great is evident in every practice they have.
"They are awesome kids. We have had some hard practices. We have had some hard dryland trainings. Not one complaint. Not one. Not one saying "ugh here we go." They want it as bad as we want it for them. I want them to know we are just as excited for them to go as deep as they can. I would like to see them go all the way this year. They got the heart to do it. Why not reward them with that? They are the ones in the driver's seat and the ones who have to do it. The job we have is very small compared to the one they have out there so hopefully they can capitalize on that and make the best of it."
The Whalers are scheduled to begin their season on Saturday, December 10 when they travel to Nauset to take on the Warriors at 4 p.m.
You can access the full schedule by clicking here.
Current Sports