Boys Lacrosse Shuts Out Seekonk, Advances To Sweet 16
David Creed •
Behind junior sniper Cole Chamber's 100th career varsity goal, the Nantucket boys lacrosse team coasted to a dominant 16-0 victory over Seekonk Monday afternoon.
"The biggest thing was our ball movement," head coach Sam Aloisi said. "Possession was good. We found the extra passes and there wasn't a lot of selfish play from us on offense. Our ride was really, really good to the point where (Seekonk) just couldn't play with the ball."
"Our defense has played well all year but did well today because our offense was so good so our defense was rested up. I really didn't see a weak spot from us today."
The Whalers, ranked #6 in the Div. 4 state tournament, will be hosting the #11 ranked Rockland Bulldogs in the Sweet 16. That game is scheduled for Wednesday, June 7 at 4 p.m.
Chambers (four goals and two assists) and Arann Hanlon (four goals and one assist) led Nantucket's offense in goals. Chambers spoke about his milestone goal after the game.
"It is a really cool milestone, but it would not have been possible without the many people I have played with over the years," he said. "It surely wouldn't have been possible without Jimmy Hurd who ran the youth program when me and my boys as little kids just having a good time. Now that it's over, all eyes are on a championship at this point."
Colby O'Keefe had three goals of his own and a team-high four assists. Patty Carroll had two goals and three assists. Jack Halik had one goal and three assists. Ryan Davis had one goal and two assists. Sean Murphy had one goal in the game. Owen Sullivan added an assist.
Jeremy Jenkinson earned his first career playoff shutout and had nine saves in the game.
"Jeremy played great again today in the net and made some nice saves," Aloisi said. "Momentum in that first and second quarter could have shifted (Seekonk's) way but he made good saves. That team wasn't bad. Our guys just played really well."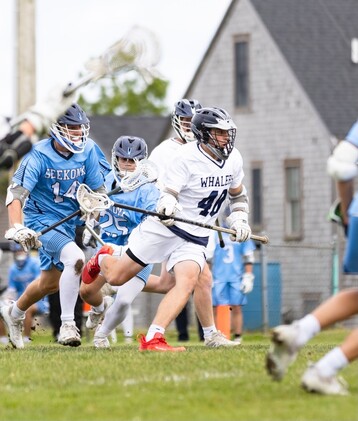 Current Sports