Boys Lacrosse Improves To 7-4 Following Narrow Victory Over Whitman-Hanson
David Creed •
It was a tight game between the Nantucket Whaler and Whitman-Hanson Panther boys lacrosse teams Monday afternoon, with the Panthers hoping to sail home with a split in the season series after Nantucket beat them in Whitman-Hanson 9-6 last month.

But behind some stellar goaltending by freshman Jeremy Jenkinson, strong team defense led by Griffin Starr, Hunter Strojny, and Luke Stringer, and a four-goal second quarter, the Whalers won the game 6-5 after holding off a late game surge by the Panthers.
"I was surprised in the first half we were able to possess the ball so well," head coach Sam Aloisi said of his team. "Our defense played great. (Whitman-Hanson) didn't really know what we were doing on defense and that helped."
Ryan Davis scored the game's first goal early in this one to give Nantucket a 1-0 lead. It was the only goal scored by either side in the opening quarter. Whaler head coach Sam Aloisi credited Whitman-Hanson's goalie with several fabulous saves.
"Their goalie was huge," Aloisi said. "He kept them in it. That first half was ridiculous. We had the ball that whole first quarter. I don't know how many shots we missed or that Jeremy saved but we had at least 10 or 12."
The Whalers scored those four goals in the second quarter while limiting the Panthers to just one goal in the first half. They held a commanding 5-1 lead at half.

The Panthers scored a quick one to begin the third quarter. Nantucket answered right back to make it 6-2, but from there it was Whitman-Hanson carrying the play. Aloisi attested that surge to his defense getting tired as the game went on.
"It wasn't because of a lack of effort," Aloisi said. "Our defense was just a step slower than them in that second half."
The Panthers scored three unanswered goals to make it a 6-5 game in the final minute of the game. The Panthers had the final possession, but Nantucket's defense stood tall.

Jenkinson made two high-quality foot saves for the Whalers in the final five minutes of the game. Aloisi dubbed them as "hockey saves" and ones the entire team has grown used to seeing.

Cole Chambers, Nantucket's junior captain and attacker, scored the final two goals for the Whalers and that led the team. Davis, along with Michael Culkins, Arann Hanlon, and Colby O'Keefe each scored one goal.

Nantucket is now 7-4 this season and they will have a couple days to rest before a huge matchup with the Sandwich Blue Knights on the island, which could have both league and state tournament ramifications.

Sandwich is also 7-4 this season and while they beat Nantucket at home 13-4 on April 25, they have lost three straight games. That game will be on Thursday, May 11 at 4 p.m. at Vito Capizzo Stadium.

Photography below is by Chris Tran.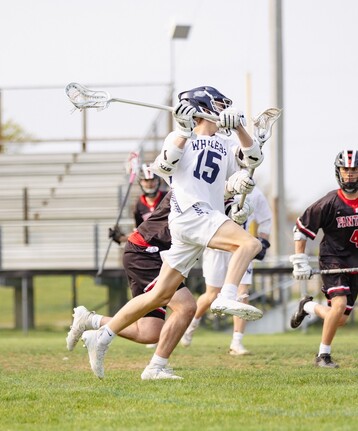 Current Sports