Nantucket Boys Hockey Advances To State Semifinal For First Time In Program History
David Creed •
Nothing about the 2022-2023 Nantucket Whaler boys hockey team makes any sense, and that is what makes their first state semifinal berth in program history all the more incredible following a 2-0 victory over the Amesbury Indians Thursday night.
The Whalers are one win away from competing for a state championship at the TD Garden, a statement many people would have scoffed at, and maybe even laughed at, if you had told them that is where this team would end up before the season began.
Five of the top six forwards and two of the top four defensemen on last year's team were seniors. They were the core that led this team all the way to the state quarterfinals before ultimately losing to Stoneham 7-3. That team graduated 10 seniors in total.
There were new voices behind the bench after former head coach Scott Corbett and assistant head coach Bob Hickman stepped down following four excellent seasons leading the program. Nantucket went 42-27-9 during their run, clinched a tournament berth in every year it was held, defeated the first Div. 1 hockey team in program history, and made it to a state quarterfinal.
It left Nantucket with two senior forwards, two defensemen, their junior goalie, their third line, nine freshman, and an entirely new coaching staff to work with this year. After they lost the first three games of their season, it appeared this season had all the makings of a lost season that at best, would serve as a rebuilding year for the program with an eye towards 2023-2024.
But this group never cared about what anyone thought outside of the locker room. It was all about the 17 guys on that bench who felt like they could make this season a special one when no one else believed that they could.
Junior goalie and assistant captain Griffin Starr peaked out the locker room before taking the ice for warmups Thursday just after 5 p.m. He saw the massive crowd and understood that despite all of those obstacles, he and his teammates had earned an opportunity to become the first Nantucket hockey team to ever make it to the state semifinals. He was aware that when he stepped onto that ice, he and his teammates would be able to tell every former Whaler hockey player that had ever worn that sweater that they had played in front of the largest Nantucket hockey crowd of all time.
And the Whalers were ready to make another statement.
"I poked my head out of the locker room and noticed it was crazy packed. We couldn't disappoint," Starr said. "That was the biggest thing. I walked in and I told everyone there are 1,000 people out there for us. We cannot disappoint them. We have to win this, we are at home, the odds are in our favor."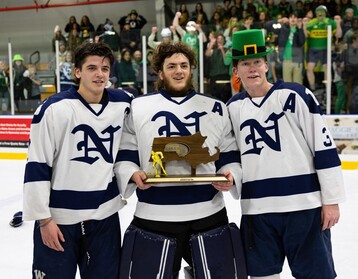 The Indians proved to be a very worthy opponent from the moment the opening puck dropped. Their speed was evident, and they showed very few signs of having sea legs following a 60-minute boat ride they aren't accustomed to taking.
The Indians outshot Nantucket 5-1 to begin the game. Starr stood tall in net. He made several impressive saves. Some of them were thanks to his ability while others could be credited to his brains and experience in net that had him in excellent positioning for each shot.
Both teams were scoreless through 15 minutes. Nantucket had the only power play opportunity in that period, but the Indians killed it off. The Whalers slowly began to tilt the ice in their favor as the period progressed. They finished the period outshooting Amesbury 11-8.
Canton Jenkinson has had a stellar freshman season. He was the Whaler's second leading scorer in the regular season and has consistently played a strong, heavy game for Nantucket while anchoring heavy minutes on their second line.
But after the game he admitted that the large crowd was something he had never experienced before. He said it was something he and the rest of the team needed to adjust to. He said they grew more comfortable with the environment as the first period progressed.
"It was insane," Jenkinson said of the crowd. "At first I was so scared because there were like 1,000 people but just kept going. It really took that first period to start to feel like I was settled in but then as the game got going, I was just saying to myself 'we can beat this team. We can do this.'"
Nantucket got an early chance on a breakaway with their leading scorer Ryan Davis being the one with the puck on his stick. But Davis was unable to bury it. Then just 3:42 into the second period, Davis got called for a penalty to put his team on the penalty kill. It was a rough stretch for Davis, who has had far more positive moments than negative ones this year for his team. But he said he never had any doubt that his teammates would have his back.
"I was pretty upset with myself I mean, that breakaway should have been buried I just fumbled the backhand," Davis said. "My penalty was pretty soft, but I knew my boys had my back for the kill. I had no doubt that they would kill that for me, and they did which was huge."
Nantucket went back to playing their grinding style at even strength after killing the penalty however chance after chance went by with a zero still next to both team's names on the scoreboard.
But Davis was able to finally change that when he buried a rebound in front of the net off a shot from freshman defenseman Soren Edwardes for his 20thgoal of the season to send the Whaler faithful into a frenzy with 29 seconds left in the second period.
"I felt it was needed to pay for my mistake (his penalty) and tried my hardest to bury one which luckily from a shot from the point, the puck bounced to me," Davis said.
"When Ryan was able to score that goal, it was just a sigh of relief," Whaler head coach Jack Moran said.
The Whalers led 1-0 after two and knew they were 15 minutes away from advancing to the final four. But it didn't come easily, nor should they have expected it to against a team like Amesbury.
The Whaler's penalty kill was put to the test early in the third with 12:52 to go in the game. After Nantucket killed it off, they were called for a cross-checking penalty with 10 minutes remaining.
Nantucket's penalty kill was sharp. Not only were they able to kill the penalties, but they were even able to generate some chances as well on the offensive end. It was a punch to the gut of the Indians while giving the Whaler bench and the sellout crowd some juice.
But even when the game returned to even strength Nantucket's style didn't change much. They played a simple game. They got the puck to center ice, dumped it deep and changed out lines. It was a smart, methodical approach to a final eight minutes where brains can tend to be overmatched by nerves.
The Whalers delivered one final blow to Amesbury with 1.4 seconds left when junior winger/defenseman Braden Knapp potted the empty net goal, his 10th tally of the season, before skating over to the student section that was awaiting his inevitable leap into the boards quickly followed by his teammates.
"Braden messed up my celly," Starr joked. "I was going to hit a celly at the student section but when he scored there was still like one second left so I had to get back in the net and we had to clean everything up (confetti and hats thrown on the ice by the excited student section)."
Starr recorded his second shutout of the season, stopping all 24 shots the Indians threw on him. He said he didn't feel the pressure of that 0-0 scoreboard given how his team was playing in front of him.
"I would say we controlled a majority of that game, so I think everybody was pretty confident we were going to bury one eventually," Starr said. "We had some really good opportunities, but their goalie made a ton of really nice saves."
Moran said Starr never ceases to amaze him. He credited him for his ability to play through pain, consistently show up for practice, watch game film, and have an ability to overcome anything that comes his way.
"It is incredible for a kid his age to be so committed to everything he does," Moran said. "He is continuously working on his skill. He is good and one of the best, if not the best I have seen. I owe him a lot for this season. A lot of the success that has come from this season has been riding on his shoulders."
"In that locker room, no matter where we go, he is the one standing up and speaking and directing and getting that enthusiasm going. He does it so well. That comes from deep in. That comes from upbringing. That is a perfect example of what upbringing does to raise a fine young man like him."
Nantucket, the #6 seed in the tournament, will now travel to the Gallo Arena to play the #2 seeded Sandwich Blue Knights, who are also the defending Div. 4 state champions. That game will take place on Saturday, March 11 at 1:10 p.m.
The Whalers played Sandwich twice this season. The Whaler's Cape & Island rival got the best of Nantucket both times, beating them 2-1 at the Gallo Arena on December 19 and 3-1 on Nantucket Dec. 21.
Recent history may not give Nantucket a great chance in this game. The last time Nantucket beat the Blue Knights was on February 18, 2020 by a score of 4-1. Since then, Nantucket is 0-5-1 against Sandwich and has been outscored 25-10.

But that means nothing to this Nantucket Whaler hockey team. In fact, to them it sounds like another opportunity to make some history and prove more people wrong.
Current Sports