Photo Gallery: 2023 Nantucket Triathlon
David Creed •
The Nantucket Triathlon took place Saturday morning, with Nantucket's very own Beau Garufi coming away as the victor for a third straight year.

Garufi, 33, finished with a blazing time of 1:00.52. The next fastest time was 1:06.01. Garufi now has seven Nantucket Triathlon titles since beginning in 2013: 2013, 2014, 2016, 2017, 2019, 2022, 2023.

After Garufi the next fastest time for a Nantucket participant was Jim Congdon, who finished seventh overall and first in the age 60-64 division with a time of 1:11.14.

On the female side, Danielle O'Dell was Nantucket's top performer. She placed second overall among females with a strong time of 1:17.13.

The course for the triathlon begins at Jetties Beach with a quarter mile swim. The participants then embark on a 13.4 mile bike ride from Bathing Beach Road all the way out to Millie's in Madaket after taking several other roads. After turning around and re-racking their bikes, the participants then run along a 3.4 mile course similar to the Brant Point Runners weekly run.

A great day, and a special shoutout to all the volunteers who made the event possible, as well as the Nantucket Police, Nantucket Harbormaster/Lifeguard team, and Nantucket Fire who were on scene ensuring everyone was safe.

Below are some photos taken during the event.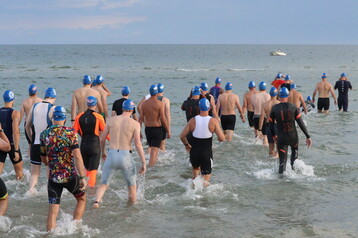 Current Sports