Whaler Sports Roundup - October 11 & 12, 2023
David Creed •
This Whaler Sports Roundup includes updates on the volleyball team, which finds itself one win away to a state tournament berth, the girls soccer team, and the boys soccer team. All three teams came away winners on Thursday.
Volleyball Improves To 9-4
The Whaler volleyball team won a pair of games these past two days and have now won four of their last five matches. They beat the Nauset Warriors 3-0 on the road Wednesday afternoon and the Sturgis West Navigators 3-0 at home on Thursday.
The sets in the Nauset game were 27-25, 25-7, and 25-15 Nantucket. Head coach Andrew Viselli said on Thursday his team's ability to gut out that first set is a promising sign and that sort of situation can't be replicated in practice reps.
Senior Yahely Del Rosario Gomez had 22 assists. Junior Leah Crowley had 11 kills. Junior Vicky Todorova had 35 digs.
The sets in the Sturgis West match were 25-13, 25-17, 25-11 Nantucket. Senior Alice O'Banion had seven kills. Senior captain Chloe Marrero had six kills. Todorova had 14 digs. Gomez had 11 assists.
These two matches came after a weekend trip to Springfield where the Whalers participated in the 2023 International Volleyball Girls VolleyHall Classic High School Tournament against some very strong programs including Ipswich (#3 in Div. 4), Old Rochester (#11 in Div. 3), Amherst (#4 in Div. 3), North Quincy (#9 in Div. 2), East Lyme (Connecticut), and Coventry (Rhode Island)
"We played some really good teams," Viselli said. "I think I like where we are right now. I think coming out of the Hall of Fame Tournament, it really allowed us to kind of see some things we need to work on. Then we came into practice on Tuesday and (the girls) said this is what we need to do and the last two matches, they have done what they said they were going to do. From a coaching standpoint, you can't really ask for a whole lot more. But we've got a whole heck of a lot of room for improvement."
The Whalers have six games remaining including matchups with Dennis-Yarmouth (#10 in Div. 3), Barnstable (#3 in Div. 1), and Duxbury (#5 in Div. 2) – three of the top programs in the state. Viselli said everything his team does moving forward is with eyes on where their level of play is in November come state tournament time.
"We have done some really good things against Nauset and Sturgis West, but really it comes down to can we do it against a team like DY," Viselli said. "Can we continue to show the mental toughness we have shown recently against some of these opponents against DY on Monday? Overall we are in a good spot. I am happy at where we are at number eight in the tournament bracket, but I also want us to have as many home matches as we can get come tournament time."
The Whaler's matchup against DY on Monday, October 16 is scheduled to begin at 4 p.m. in the Nantucket High School Gymnasium.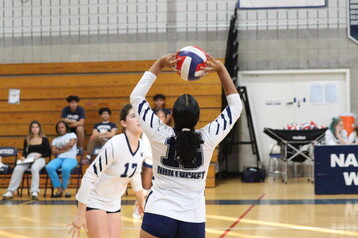 Girls Soccer Beats DY 6-1
The girls soccer team was in desperate need of a victory on Thursday against the Dennis-Yarmouth Dolphins having lost six of their past seven games while being outscored 39-6. But Nantucket has also been without junior captain Adney Brannigan and senior captains Claire Misurelli – two of their best players – which has decimated an already thin roster.
But the Whalers got Brannigan back on Thursday and won 6-1. Brannigan scored two goals but sophomore captain Chelsea Gross, who has been the Whaler's star player all year and leading scorer, scored three goals. Sophomore Sutton LeBrecht also scored one goal – her first of the season.
"It was a slow start, a very slow start," head coach Doug LeBrecht said. "I was nervous with a team that hasn't won to give them some confidence when they score first. You could get in some trouble there, but we got going. Having Adney back was huge because not only did she score but that was one of Chelsea's best games. Adney gets Chelsea fired up. They complement each other really, really well."
LeBrecht said his team needed this win, which improved their record to 5-7, after a frustrating string of games last week. He added that Misurelli is expected to be cleared and ready to go in Nantucket's next game on Tuesday, October 17 when they travel to Sturgis West for the first of two matchup with the Navigators over the course of two weeks.
Photos below by David Creed.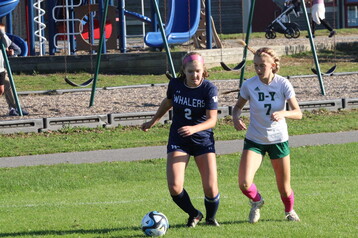 Boys Soccer Escapes DY With Win
It may not have been their best game on Thursday, but the boys soccer team found a way to beat the Dennis-Yarmouth Dolphins 2-1 on the road – improving their record to 6-3-3 this season.
Head coach Rich Brannigan II said he didn't feel like his team played their best soccer and made it hard on themselves all game.
"We were always in control of the game, we just didn't make it real easy," he said.
The Whalers struck first when junior Jake Johnson kicked a laser of a shot on net that the Dolphin goalie was unable to hang onto. The ball went to junior Jose Diaz, who has been one of Nantucket's top goal scorers this year and he buried it in the 11th minute.
Diaz left the game after this goal because of a collision and did not return. Brannigan praised his ability to be opportunistic and make the most of his scoring opportunities however. He said his team lost some steam after the injury and DY was able to tie the game with about 10 minutes before halftime.
"We talked about energy at halftime because we seemed to be lacking it," Brannigan said. "We were playing a little bit slower than I would like to see the guys play but it was great to see the guys answer right away in the second half."
Freshman Calvin Guevara crossed a ball early in the second half and Edin Vasquez used his body to get the ball to junior Ryan Coleman who was able to head it into the net to make it 2-1.
"I really didn't think that second goal was going to be enough to be honest," a relieved Brannigan said. "I thought we were either going to need one more or DY was going to tie it. They really had nothing to lose as a team, so they were throwing a lot of player into dangerous spots on the field. But it was great to see the boys figure out a way to win the game."

Both sophomore goalie Alex Avilov and senior captain Aiden Congdon got time in net for Nantucket. Congdon played the first half and Avilov played the second. Brannigan said both will be important pieces to the winning formula for his team moving forward so he was pleased to be able to play both on Thursday.
Nantucket hadn't played a game since October 5, which was a victory over St. John Paul II. Brannigan said that could have played a role in his team's sluggish play at times but overall, feels good about where his team is at 12 games into the season.

The Whalers next game will be on Tuesday, October 17 at home against the Sturgis West Navigators at 4 p.m.
SCHEDULE AHEAD:
Friday, October 13:
The field hockey team will be the only varsity sports team in action. They are traveling to St. John Paul II for a matchup with the Lions at 4:00 p.m.
Saturday, October 14:
The field hockey team will be at home hosting Seekonk at 1 p.m.
The football team will be on the road to face the St. John Paul II Lions at 1:30 p.m.

Updated MIAA state tournament brackets are released on Tuesdays and Fridays at 11 a.m. To view them, click here. For more sports content, follow our Current Sports Instagram page here. You can follow Current Sports photographer Chris Tran here.
Current Sports