Whaler Sports Roundup: Volleyball Advances To Round Of 16
David Creed •
This Whaler Sports Roundup includes a recap of the volleyball teams Round of 32 victory over the Sandwich Blue Knights and what lies ahead for them in the tournament, photos from the girls soccer team's play-in game Thursday afternoon, and a look ahead to the field hockey team's home match on Friday and the boys soccer team's match on Monday.
Volleyball Advances To Round Of 16 Following Win Over Sandwich
The Whaler volleyball team (#9) welcomed the #24 seeded Sandwich Blue Knights to the island for a Round of 32 matchup on Wednesday to kick off their state tournament run in the MIAA Div. 4 Bracket - beating Sandwich in straight sets 3-0.

Whaler head coach Andrew Viselli said that he was very happy with his team's resolve and ability to grind out a round one victory - noting that any win in the state tournament is a good one.
"I think we have some things to work on but to be perfectly honest, I thought in set number one our passing was really good. I thought Alice (O'Banion) was outstanding. Leah (Crowley) did what was asked of her. Chloe (Marrero) and Ri (Cranston), we got some work to do. But they carried the weight of what they needed to do," Viselli said. "I thought our service was good. I thought Vicky's (Todorova) got some work to do but everyone's got some work to do. Bianca (Santos) played her standard great game."
While he felt it took a total team effort to walk away with the victory and extend their season, Viselli said he was impressed in particularly with O'Banion in the middle.
"Every single thing (early in the season) was Chloe, Chloe, Chloe, and if I'm another team I'm like 'Okay so we key in on her.' But in the tournament, if you can establish pace and tempo with your middles, they don't have to get kills, just pace and tempo, then you open up their defense to be susceptible to all we want to do," Viselli said of O'Banion's play and role. "But Alice is actually capitalizing on it and getting kills and her vision is freaking outstanding.
Viselli was also complimentary of Santos, who he said has a knack for always raising her game in the big moments.
"This is her time to shine," he said of Santos raising her game and compete level come tournament time. "This is what she does. This is what I understand about her. People either love her or hate her. This is what she does and this is why she's a good volleyball player.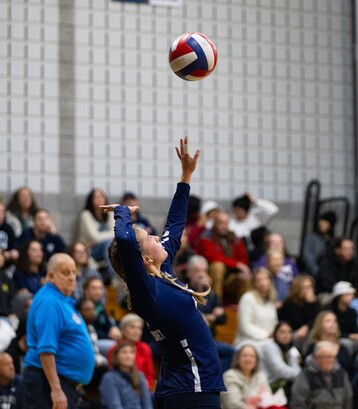 The sets were as followed:

Set One: 25-18 Nantucket

Set Two: 25-22 Nantucket

Set Three: 25-17 Nantucket

Nantucket will play #8 Hamilton-Wenham in the Round of 16. They will travel for this game. Nantucket Athletic Director Travis Lombardi said after Wednesday's win that the game was likely to be played on Sunday if Hamilton-Wenham defended their home court. According to the volleyball team's official schedule, the game will be played at 12 p.m. on Sunday, November 5, but no official announcement has been made – so stay tuned.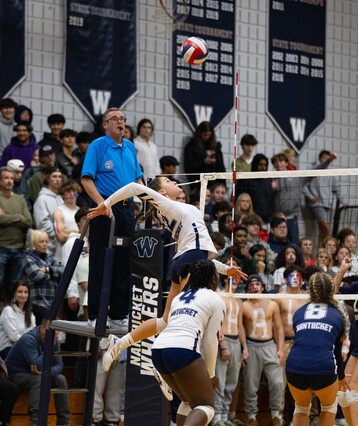 Girls Soccer Season Comes To An End
The girls soccer team's season came to an end Thursday afternoon after losing to Clinton High School 5-1 on the island in a play-in matchup. Junior captain Adney Brannigan scored Nantucket's only goal.
The Whalers finished the season 8-11 and they will be graduating two players: senior captain Claire Misurelli and senior Cydney Mosscrop.
Below are some photos taken during the game by Current Sports Photographer Chris Tran.
Field Hockey Hosts Quaboag Regional High School Friday
The field hockey team will play their first home tournament game since the fall of 2021 when they host Quaboag Regional High School on Friday, November 3 at 2 p.m. The Whalers will hope for a happier ending to this year's home matchup compared to the one in 2021 - a 2-0 to Lunenburg in the Round of 32.
The Whalers are a much different and much improved team since then, amassing a 9-5-3 record this season after going 6-10-2 in 2021 and 8-7-3 last season. They finished the season winning five of their final six games.
Quaboag Regional High School (12-5-1) and Nantucket did not face any common opponents; however Quaboag finished their season strong just like Nantucket but in even more dominant fashion. They are currently riding a seven-game win streak and have outscored their opponents 37-1 during that stretch. The last goal they surrendered was in the first game of the streak on October 12th against Tantasqua Regional High School.
Boys Soccer Traveling Whitinsville Christian To Begin Tournament Play
The Whaler boys soccer team earned the #17 seed in the MIAA Div. 4 state tournament and will be traveling to Whitinsville Christian High School for a Round of 32 matchup with the Crusaders on Monday, November 6 at 2 p.m.
Neither Nantucket nor the Crusaders played a common opponent. The Crusaders finished their season with an 8-5-5 record while the Whalers had an 11-4-3 record.
The Whalers finished the season with a red-hot second half to their season. They won seven of their final eight games while outscoring their opponents 27-9. Nantucket was ranked as high as #10 as recently as last week in the bracket ratings but fell seven spots after a 2-0 loss to Martha's Vineyard and a 3-2 win over the Sturgis West Navigators.
The Crusaders also had a strong ending to their season and appear to be playing some of their best soccer of the season. They won five of their final six games of the year – outscoring their opponents 27-5 in that stretch.
The Whalers finished with a +0.8214 rating while the Crusaders were just a tad higher at +0.8496.
SCHEDULE AHEAD:
Friday, November 3:
The field hockey team will host Quaboag Regional High School at 2 p.m.
The Whaler football team will be on the road facing Bristol-Plymouth Regional High School at 3:30 p.m.
Saturday, November 4:
No Games Scheduled.
Sunday, November 5:

Volleyball (#9) will travel to Hamilton-Wenham (#8) for a 12 p.m. matchup, with the winner earning the opportunity to play in the MIAA Div. 4 state quarterfinal.
Monday, November 6:

The boys soccer team (#17) will be on the road facing Whitinsville Christian High School for a Round of 32 matchup with the Crusaders at 2 p.m.
For more sports content, follow our Current Sports Instagram page here. You can follow CurrentSports photographer Chris Tran here.
Current Sports