2023 Daffodil Weekend Events Lineup
Nantucket Current •
For Daffodil Weekend, the Current has gathered all of the planned events and put them in one place for our readers to digest and ultimately plan how they'll spend the weekend. If you there is an event taking place that is not listed in this post, please email David Creed at davidcreed@n-magazine.com and it will be added.

Vintage Vehicle Drive-By Parade For Island Seniors
Antique Car Staging and Parade On Saturday
The annual antique car parade is back! Car staging begins at 9:30 a.m. on Main Street. Spectators may walk among the parked vehicles to view the classic cars and their festive decorations. The parade starts at 12 p.m. and will follow this route: right on Centre Street, right on Broad Street, right on South Water Street, and back up Main Street. Cars continue left on Orange Street and head out of town, around the rotary and out Milestone Road to 'Sconset. This is a Nantucket Chamber of Commerce event.
Daffodil Festival Hat Pageant
Get creative and design your hats (and outfits) for the Daffodil Festival and parade around the Children's Beach Bandstand at Harborview Way. Ribbons will be awarded for the winning hats at 10:30 a.m. This is a Nantucket Chamber of Commerce event.
Daffodil Festival Children's Bike Parade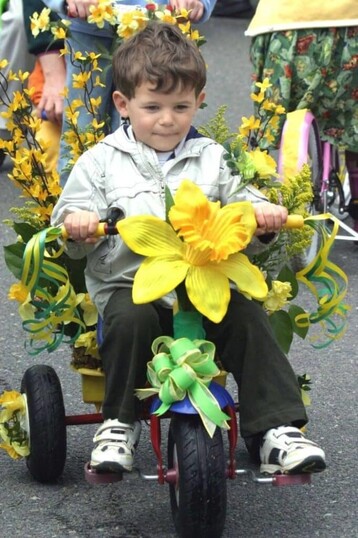 Children (and their parents) who have decorated their bikes, strollers, scooters, and wagons for Daffodil Festival will parade around Children's Beach at Harborview Way. Children on bicycles must wear helmets – decorate them, too! Ribbons will be awarded for the winning hats. This is a Nantucket Chamber of Commerce event.
Visit with Barnaby Bear at Children's Beach
Meet Barnaby Bear this Daffodil Weekend! Join author Wendy Rouillard and her best pal, Barnaby Bear, as they meet and greet families at Children's Beach. Surprise giveaways will be available.
Daffodil Festival Bazaar On The Tavern Patio
The Daffodil Festival fun doesn't have to end with the Saturday festivities. Enjoy a diverse market of artisanal fares, from photography to unique jewelry at the Bazaar from 10-2 on Saturday, April 29 and Sunday, April 30.
Daffodil Festival NiSHA Dog Parade
Adorn your 4-legged friend in their Daffy best and parade around Children's Beach at Harborview Way. Registration will be held at a NiSHA table on Main Street during the antique car staging and at Children's Beach starting at 12:15 pm. This is a Nantucket Chamber of Commerce & NiSHA event.
Daffodil Festival Tailgate Picnic
Following the parade, cars in the parade will park on the right side of the street in 'Sconset. Spectators may seek parking on side streets. Bring your own picnic and join the fun. Parade participants will set up special picnics for their groups; some might invite spectators to share, but it's best to bring your own picnic because there are no options to buy picnics during the Daffy Tailgate. There is often impromptu live music. This is a Nantucket Chamber of Commerce event.
Boston String Academy Concert
A concert for Nantucket school children will be held at the Nantucket Intermediate School on Friday, April 28th at 1pm. This concert will be followed up with a meet & greet at the Boys & Girls Club. On Saturday, April 29th, at 2:30pm, the Boston String Academy will provide a free performance, open to the public, at the Whaling Museum.
These performances are being made possible through partnerships with the Nantucket Public Schools, the Nantucket Historical Association, and the Nantucket Boys & Girls Club, the Nantucket Community Music Center (NCMC) in an effort to make connections with young Nantucket music students. An extension of the music programs underway at Nantucket schools, the visit is part of the NCMC's mission to promote music education among the youth of Nantucket.
The Boston String Academy is a non-profit organization providing rigorous string instrument instruction to children in under-served Boston communities. The program is based on the Venezuelan El Sistema philosophy that utilizes music as a vehicle for social change. Twenty students aged 12 to 18 from the Academy will visit Nantucket.
The visit by the BSA is part of a larger initiative to promote music education among young Nantucketers. According to recent studies, participation in music education has numerous benefits, including improved cognitive skills, enhanced academic performance, and increased creativity.

Live Music At The Chicken Box April 29 & April 30
Live Music At The Rose & Crown Friday & Saturday
Live Music At The Gaslight All Weekend
The 47th Annual Daffodil Garden Show
The Annual Daffodil Show will be held in the greenhouses at Bartlett's Farm April 29 & 30. American Daffodil Society Judges travel from as far away as Georgia, Maryland, New York, Connecticut, and New Hampshire to judge the entries. This event will take place from 2-5 p.m on April 29 and from 10 a.m. to 4 p.m. on April 30.
NANTUCKET DAFFODIL 5K 2023
Run through Daffodil Weekend on Nantucket by taking part in the annual Daffodil 5K road race through the scenic coastal village of 'Sconset on Nantucket's eastern shoreline. The race starts at 9 a.m. on Sunday, April 30 at Codfish Park in 'Sconset. Bib pick up is on Friday April 28, and Saturday April 29 at the Nantucket Run Centre, 36 Centre Street from 10 a.m. - 5 p.m.You can register for the 5K by clicking here.
Current News