Demolition Of Veranda House Begins; Owners Vow To Rebuild
Jason Graziadei •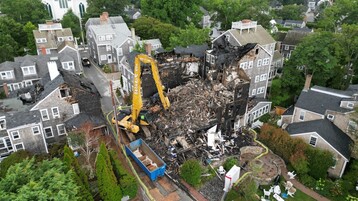 The demolition of what remains of the historic Veranda House in downtown Nantucket got underway on Monday, just days after the owners of the hotel vowed to rebuild following the devastating fire on July 9.
Crews from the J.R. Vinagro Corporation, based in Rhode Island, began using a specialized high-reach machine used for demolition to take apart what was left standing following the blaze.
For more than three weeks now, the town has blocked off Step Lane to the public with jersey barriers, and stationed community service officers at either end of the small side street to prevent the public from approaching the burned down building.
The demolition of the structure is expected to take at least several weeks.
Meanwhile, the owners of the Veranda House have vowed to rebuild the hotel. The Procaccianti Companies are led by James and Elizabeth Procaccianti, of Cranston, Rhode Island. It owns and operates the Nantucket Resort Collection, which includes the Veranda House, the Chapman House, the Regatta Inn, and the Sherburne Inn.
"While the physical and emotional impact of the loss cannot be undone, we are committed to continuing to work closely with the town, our neighbors and members of the community in the coming months and years to rebuild the Veranda House and help restore the neighborhood around it," the Veranda House management team stated in a social media post. "This work will serve to remind us all of the resilience, courage and hope reflected by the people of Nantucket."
Current News