For Nantucket Nurse, Saturday's 11th Swim Across America Is Personal
Waverly Brannigan •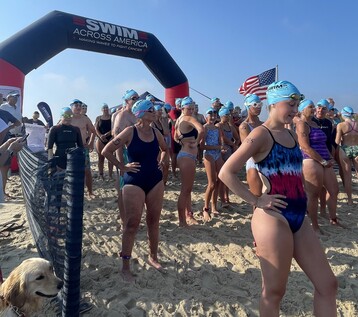 Since 2013, Swim Across America Nantucket has made waves in supporting cancer care on the island, with many island residents witnessing the impact first-hand. Entering its 11th year, the annual community event returns this Saturday at Jetties Beach.
For Nantucketer Gretchen Hull, an oncology nurse and director of infusion services since at Nantucket Cottage Hospital, participating in the swim has a special meaning.
"The mission of Swim Across America Nantucket to support cancer services and research at NCH, the hospital I work at, aligns perfectly with my professional and personal goals," said Hull.
Being an oncology nurse, Hull has seen the direct impact of funds raised by SAA Nantucket over the years, specifically the transition to allowing patients to be seen and treated directly on the island, rather than traveling to the mainland for some oncology services.
Hull recalls first recognizing the impact of groundbreaking immunotherapy research in 2014 when the cancer treatment Keytruda first became available at NCH. Keytruda was developed in a SAA-funded lab and is now FDA-approved for treating more than 20 different types of cancer.
Hull has now been involved with SAA for over a decade, this year taking to the water for the four-mile swim as part of the Nantucket Cottage Hospital and PASCON team, composed of over 30 friends, family, and colleagues. Hull is also considered an "angel swimmer," someone who is designated to be in the water to support anyone who may need a helping hand during the event.
"I feel like it makes it real," says Jill Roetheke, co-director, on Hull's support and participation in SAA. "She's there holding hands with her patients, supporting one another...I mean it truly shows how much she cares about her patients and how passionate she is about her job."
Jim Pignato, co-director, added, "It also helps swimmers and donors to realize they're not just funding overhead at a hospital, that there is that compassionate piece that puts a face to everything we're doing."
The 11th annual SAA–Nantucket open water swim will take place at Jetties Beach this Saturday, July 22nd. There is still time to get involved, as registration for the event will remain open online until Thursday, July 20th at noon, with a $200 minimum in place to swim. Same-day registration will be available Saturday morning at 6:30 a.m.
Currently, about $493,000 has been raised toward SAA Nantucket's $600,000 goal, benefitting Mass General Brigham (Nantucket Cottage Hospital), PASCON (Palliative & Supportive Care of Nantucket), and Mass General Cancer Center. Although the swim takes place this Saturday, donations will remain open until late October.
Beyond swimming and donating, all are encouraged to come down to be part of the event, helping to bring the Nantucket community together in support of SAA and cancer care services on the island. To register, donate, or for more information, visit swimacrossamerica.org/nantucket
Current News