State Of The Harbor Forum Focuses On Impacts Of Nitrogen
JohnCarl McGrady •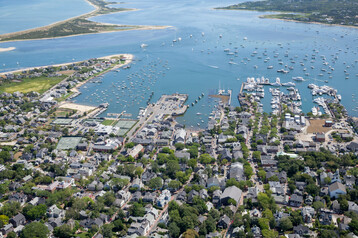 Research findings presented at the 7th annual State of the Harbor forum Tuesday suggest that nitrogen contamination from fertilizer is the single biggest threat to eelgrass in Nantucket Harbor.
"Nutrients are the biggest issue here by far," Dr. Alyssa Novak, assistant research professor at Boston University, said during a presentation at the forum, organized by the Nantucket Land Council.
Of those nutrients, nitrogen is the primary contaminant in Nantucket Harbor. If nitrogen levels in Nantucket Harbor were reduced, Novak added, there would no longer be any need for costly eelgrass restoration efforts.
And Novak's research shows that the primary source of nitrogen contamination in Nantucket Harbor, pushing nitrogen levels above what can be accounted for by natural deposition from the atmosphere, is fertilizer runoff.
Eelgrass is essential to the health of Nantucket Harbor, cycling nutrients and providing a habitat for many species, including scallops. Eelgrass is also an important part of coastal resilience, anchoring sediment in place with its roots and reducing the impact of storm surge. Without eelgrass, floods would be worse, erosion would occur faster, and scallop harvests would be smaller—if there were any scallops left to harvest at all. And since 1994, Nantucket has lost over a third of its eelgrass, prompting concern from local conservationists and scallopers and leading to a broad eelgrass health assessment.
The results from the assessment were dire. Nantucket's eelgrass isn't growing as fast as the sea is rising, leaving some populations stranded without enough light, a problem only exacerbated by the algae smothering large swaths of eelgrass across Nantucket Harbor. Higher temperatures in Nantucket Harbor are also threatening eelgrass, and invasive green crabs may pose yet another problem for conservationists.
But the main problem is nitrogen. Under normal circumstances, increased nutrient concentrations are good for plant growth; that's why the fertilizers contaminating Nantucket Harbor contain nitrogen in the first place. When nitrogen concentrations in the ocean are too high, however, the tendency to promote plant life becomes a problem.
Algae populations explode when nitrogen concentrations rise, swarming across the ocean and blocking out sunlight for other species. This is believed to be the cause of many 'red tides' where algae washes up on the beach in massive quantities, and the source of the black algae lyngbya. Algae also devours oxygen at a rapid rate, choking animals and plants—including eelgrass—that try to compete with it.
Although some of the nitrogen contamination on Nantucket, especially in Madaket Harbor, is from sewage, most is from fertilizer. Rain washes the nitrogen-dense fertilizers applied to lawns in the watershed into the harbor, where it accumulates. Even fertilizer applied far from the shore can make its way into Nantucket Harbor, seeping into the soil and slowly travelling down slope, pushed by gravity and pressure.
Nutrient levels in Nantucket Harbor, Novick said, are comparable to other eutrophied sites. Though efforts are underway to restore eelgrass beds, and initial attempts have seen significant success, Novick stressed that the future of eelgrass on the island may be determined by the actions of individual people.
She encouraged people to do regular maintenance on their septic systems, refrain from discharging contaminated water into the ocean, reduce fertilizer use, and plant native plants that require less fertilizer. She also said boaters should avoid anchoring in eelgrass, as it can damage plants.
"We should feel empowered to address the things we have control over," Nantucket Land Council Executive Director Emily Moulden said. "We definitely all need to participate in the solution."
Kim Starbuck of the Urban Harbors Institute also shared an update on the new harbor plan during the forum, which was held at the Nantucket Yacht Club. A survey for public input on the plan, which is currently in development, is available now, and the team is soliciting feedback from the public.

Current News