Governor Maura Healey Coming To Nantucket For Fundraiser
Jason Graziadei •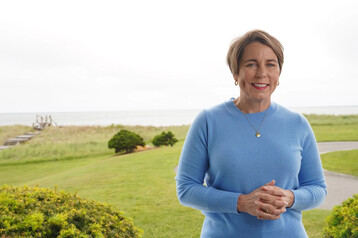 Governor Maura Healey will be on Nantucket later this month to attend a political fundraiser that will be hosted by the island's Democratic state representatives.
The reception is being held on Saturday, Aug. 19th at the island home of Ken Jarin and Robin Wiessmann, according to an invitation obtained by the Current. Tickets to attend the event range from $500 to $5,000.
Wiessmann is an attorney and government official who currently serves as the executive director and CEO of the Pennsylvania Housing Finance Agency. Jarin is a partner with the law firm Ballard Spahr who focuses on government relations.
The fundraiser is being hosted by state Rep. Dylan Fernandes, state Sen. Julian Cyr, along with Jarin, Naomi Aberly, the former board chair of the Planned Parenthood Federation of America, and Landis Becker Young, a board member with the Planned Parenthood League of Massachusetts.
It will be Healey's first visit to Nantucket as Massachusetts Governor. 

Current News