Your Friend With A Truck: How Curren Huyser Built A Moving And Shipping Empire
David Creed •
At the age of just 24, Curren Huyser began planting the seeds for his idea to launch a moving company on Nantucket, even as he was working a full-time job with the town's Natural Resources Department. He named the company "Your Friend With A Truck" because in the beginning, the business was nothing more than Huyser and a few of his buddies driving a 10-foot box truck across the island helping people with small jobs.
"In the beginning every one of my friends helped me out," Huyser said. "I could hit them up asking for help moving a couch and they were there. That's sort of how the name came to be. I never would have imagined it would become what it is today."
Seven years later, Your Friend With A Truck is taking on moving jobs up and down the East Coast from New York City to Florida, out west to Dallas and Kansas, and even up north to Toronto, Canada. Huyser has expanded the company's fleet of trucks from the one 10-footer to five trucks and a customized van.
And the business continues to grow. Over the winter, Huyser purchased a 2,000-square-foot warehouse in West Yarmouth and has broadened the company's services to help people get purchased items to the island from the mainland.
"Over the winter I realized there is a real need for people who are moving smaller quantities of things," he said. "For example, if somebody wanted to buy a couch and called up Pottery Barn saying 'I need this delivered to Nantucket,' at first they will say 'yeah we can get it there.' But then they get to the ferry and call you saying 'we didn't realize you were on an island.'

"There is multiple facets for this new warehouse," he added. "The first is the consumer – the designers, the builders, the homeowners who have these refrigerators or couches or other things they just can't seem to get to the island. But now they can put our warehouse address in, let us know, and call us saying 'hey so and so is going to deliver my fridge to your warehouse. Can you give me a quote for you guys to bring it over to Nantucket'?"
Huyser now has a crew of 10 movers, and most of them are locals who grew up on the island and/or have family on Nantucket. This allows him to have three or four crews carrying out jobs at once. He also has an office staff including Mackenzie Thompson, who has been with the company for five years and Alicia Paterson. He said they handle all of the quotes, bookings, and save him from many headaches. This summer, they will be adding a third person to the team to help assist in the office as they continue to expand the business.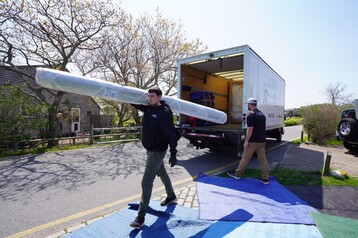 Even with the larger crew, in particular the movers, there is only so much free time for each of them during a shift – so Huyser said he likes to look at this new service as a way to maximize the time and money spent on the ferry bookings by creating a consistent flow of jobs being completed in both directions.
His standing as an island native has also played to his advantage. With the difficulties that can come from booking ferry reservations, Huyser said he has had at least three moving companies call him to ask if he would be willing to sell his ferry reservations.
"They tell me they can't get to the island," Huyser said. "They don't know the process and protocol it takes to get those reservations which is why I want people to know that we do have this consistent flow of trucks coming and going. We call this our shipping service. There is only so much moving and business you can get moving people around on a small island, so this should help us expand how many people we can serve and assist."

One employee Huyser recently added is Chase Cunningham, who lives in Mashpee and worked at Cape Cod Express before Huyser "poached him" away. Huyser said adding him to the team has played a major role in the company's ability to pack up trucks on the mainland to board the ferry and expand their service as quickly and effectively as they have.
"He will commute over here when I need him on the island, but he also can stay over there if I need him to receive stuff from someone like Pottery Barn or something," Huyser said. "In those cases, he works from the warehouse that day. He has been mint. At first when we bought this warehouse I was like 'how am I going to do this'? Am I just going to get on the ferry every day?"
Huyser admitted that in order to grow his staff and keep up with the expansion of the business, he will need to find a way to eventually secure more employee housing, whether it be property on the island or purchasing property in the Cape for workers that would partake in a daily commute. That remains the biggest obstacle to further growth for his company.
"This may sound obvious, but I don't know how you can have a business on this island without employee housing," Huyser said. "I'm fortunate to have guys here who are young and local. I have been able to retain most of them. But it is no secret we will need more housing in order to continue growing."
Current News