Man Found Unresponsive On Vesper Lane Early Wednesday Morning
Jason Graziadei •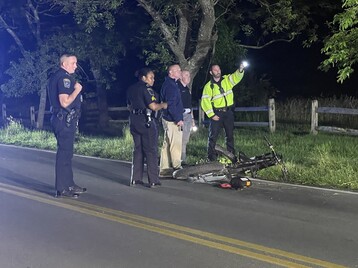 A man was found unresponsive on Vesper Lane early Wednesday morning and was rushed to Nantucket Cottage Hospital by ambulance.
The Nantucket Police Department, Nantucket Fire Department and State Police Troopers all responded to the scene and blocked off a portion of Vesper Lane in both directions. The man was found roughly 100 yards away from the hospital entrance just after 1 a.m.

Two witnesses at the scene told the Current they came upon the man face down and unresponsive in the roadway next to an e-bike. His condition is unknown at this time, but a first responder at the scene said the victim was expected to be transported off-island by a Medflight helicopter. A Boston Medflight crew landed at Nantucket Cottage Hospital just after 3 a.m.
At least five NPD vehicles were on the scene, along with two State Police cruisers, an NFD engine and an ambulance. Officers were scouring the area around the e-bike. A mailbox also appeared to have been struck near the e-bike on the road.
This is a developing story and will be updated as we gather more information. 
Current News