What Was The Mystery Helicopter Over Nantucket This Week?
Jason Graziadei •
The sightings began on Monday.
A black helicopter with a curious camera mounted to its nose was spotted by dozens of island residents circling over Nantucket Harbor, the village of Sconset, and points beyond. At first, it resembled the helicopters previously used by the State Police to detect outdoor marijuana growing in the days before recreational cannabis was legalized.
After receiving a slew of messages about the helicopter, Nantucket Current reached out to Nantucket Memorial Airport to see if it had any information. The response? "Negative."
But then island resident Blair Perkins got a close-up shot of the aircraft that showed its N number - essentially its registration number with the Federal Aviation Administration. The helicopter was registered to "Hollywood Astar LLC" out of Long Beach, CA. That limited liability company is registered to the owners of "Phenom Camera Ship" a "high-speed high altitude pressurized filming platform."
One of the owners of that company is the well-known movie helicopter pilot Fred North. So by Monday afternoon, our best guess was that the aircraft was getting shots for the Netflix adaptation of Elin Hilderbrand's "The Perfect Couple," which is currently filming on location in Chatham on Cape Cod.
Then on Tuesday morning, North just reached out to the Current to confirm the helicopter flight was indeed for the filming of "The Perfect Couple."
The helicopter was back in the skies over the island on Tuesday as well.
North also shared his first impression of seeing Nantucket from above: "It is beautiful, amazingly really.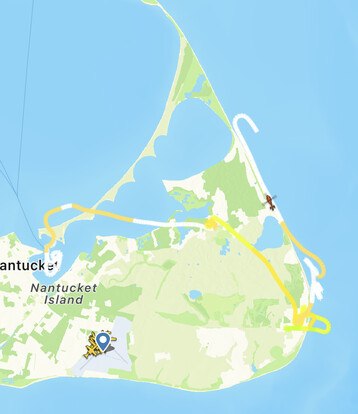 Current News