Motorcycle Accident Claims The Life Of Nantucket High School Student
Jason Graziadei •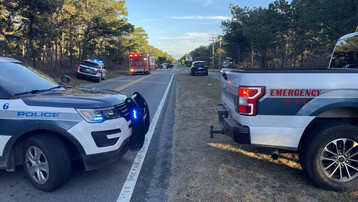 A Nantucket High School student was killed Thursday afternoon in a motorcycle accident on Milestone Road.
The motorcycle the teenager was driving collided with a cement mixer at the intersection of Milestone and New South Roads around 2:42 p.m., and the victim was found by first responders to be deceased upon their arrival.
Authorities have not yet identified the student or said whether the operator of the truck is facing any charges related to the accident.
Most of Milestone Road remained shut down for hours in both directions between Nobadeer Farm Road to New South Road after the accident as the Nantucket Police Department and State Police conducted an investigation into the fatal crash.
A witness told the Current that the motorcyclist was headed east toward Sconset, while the cement truck was headed west, attempting to turn left onto New South Road when the collision occurred.
The boy's classmates gathered at the intersection of Nobadeer Farm Road and Milestone - as close as they could get to the accident scene given the ongoing investigation - to create a makeshift memorial for the friend they lost, laying flowers and a Nantucket High School hat on the ground.
Island schools, businesses, teachers and others posted online the image of a Nantucket High School Whalers "W" with a black ribbon across it to share their grief and solidarity with the family.
Nantucket High School administrators confirmed Thursday evening that the victim was indeed a student, and announced that classes would be cancelled Friday.
"We are closing school in order to provide services for those who need support," principal Mandy Vasil and assistant principal Jen Psaradelis said in an e-mail to parents. "The school will be open from 9:00 a.m. to 2:30 p.m. for any students and their families during the day. Counseling services will be available through Fairwinds and our own counseling staff. We encourage you to go to the school to gather and support each other. Please be safe and hug your family members."
Vasil told the Current that the boy's teammates on the Nantucket High School football team have planned a vigil for the victim at noon on Friday at the school.
Fairwinds, Nantucket's Counseling Center, announced that it has extended its same-day walk-in hours on Thursday, and its clinicians are standing by to help. "Please call or come directly to our office at 20 Vesper Lane if you, your family, or anyone you know would like to speak to a clinician," Fairwinds said in a statement. "We will also be available tomorrow to support our community during this difficult time. Call or text 508-228-2689."
Current News