Stubbys Opening New Location In Boston's Seaport
David Creed •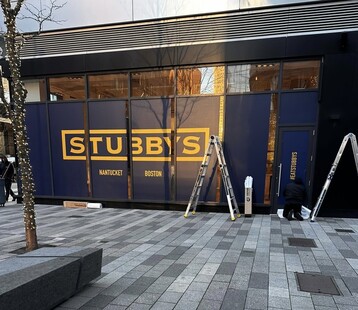 Stubbys, the popular late-night, locally owned restaurant on Nantucket, announced Thursday that that it will be expanding and bringing its menu to Boston's Seaport District in the spring of 2023.
A new Seaport storefront for the Nantucket fast-food joint is under construction on Northern Avenue, and Stubbys arrival in the Seaport will mark the fifth Nantucket export to arrive in Boston in recent years, following Cisco Brewers, Lola 42, Nautilus, and Fresh.
Stubbys was founded on Broad Street on Nantucket in 2000, and has since become an island staple with a rabid following.
"Stubby's began with a simple vision of providing the residents and visitors of Nantucket with quality food, fast service , and a neighborhood space for people to hangout and connect," Ryan Kopp, a core team member of Stubbys told the Current. "Decades later, Stubby's continues to hold dear to our core values of turning out excellent food, knowing and valuing our customers, and maintaining the highest standards."
Stubby's is more than just a late-night food service. They also serve breakfast, lunch, and dinner seven days per week all year long. It is a family owned and operated restaurant.
"We are a family owned and operated restaurant with amazing employees and customers who are the heart and soul of Stubby's," Kopp said. "We take pride in the experience we provide our customers and strive to create positive, lasting relationships with all who walk through our doors."
"Our story is just beginning, and we can't wait to make more memories with you in Seaport and welcome you into the Stubby's family."
This story will be updated.
Current News