Photo Gallery: Annual Senior Car Parade
David Creed •
The annual senior car parade was in full swing Saturday afternoon with friends and family of yesterday's 143 Nantucket High School graduates packing the streets to celebrate the Class of 2023 as they strolled through downtown behind the Nantucket Police and Nantucket Fire Departments in decked out vehicles commemorating their graduation.
Normally the parade occurs immediately after the graduation ceremony concludes, however things changed this year after the ceremony was moved from Saturday morning to Friday evening due to poor forecasted weather, which held off for the entirety of the parade.
Below are some photos taken during the parade by the Current.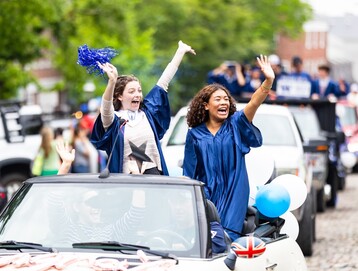 Photos below are by David Creed.
Current News