Preparations Begin For President Biden's Thanksgiving Visit
Jason Graziadei •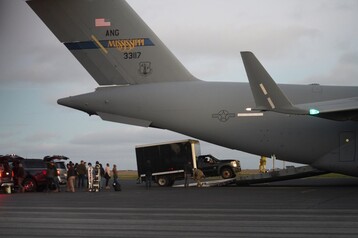 And so it begins...again.
Preparations for President Joe Biden's visit to Nantucket for the Thanksgiving holiday got underway Wednesday with the arrival of a C-17 Globemaster plane at Nantucket Memorial Airport.
The aircraft was dropping off vehicles and government personnel that will be part of the massive security apparatus required for the Presidential visit.
Nantucket public safety officials met Thursday afternoon with U.S. government personnel at the public safety facility off Fairgrounds Road to discuss the security plan for President Biden's visit.
The Bidens are expected to arrived on the island next Tuesday sources told the Current.
Last year's Thanksgiving week on Nantucket was transformed by the arrival of President Biden and his family, who came with an entourage of more than a hundred Secret Service agents and security personnel and were followed by dozens of media members and television news crews, along with State Police Troopers and others.
The Bidens stayed at the compound of David Rubenstein along Nantucket Harbor, but there is no word yet on if that is the location the first family will be staying at this year.
While Biden had been coming to Nantucket for more than four decades as a U.S. Senator and eventually as Vice President, last year's visit was unlike any that had come before it in terms of the government apparatus that descended on the island to provide security.
For this year's visit, a number of open questions remain, including:
• Where President Biden and his family will stay (we believe it will again be the waterfront compound of David Rubenstein but this is not yet confirmed).
• Whether he will attend the tree lighting ceremony on Main Street as he did last year.
• If there are any public appearances like his visit to Coast Guard Station Brant Point in 2021. 
Current News