President Biden Arrives Tonight On Nantucket
Jason Graziadei •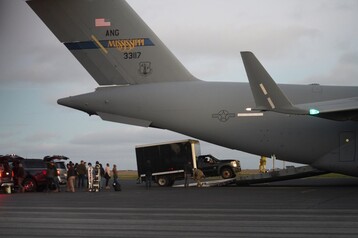 President Joe Biden and his family will arrive Tuesday on Nantucket, the White House has confirmed, renewing a decades-long tradition and once again putting a national spotlight on the island for the Thanksgiving holiday.
The security apparatus for President Biden's visit has been building over the past week, with multiple C-17 Globemaster aircraft arriving at Nantucket Memorial Airport to drop off personnel, vehicles, and equipment, including an air defense system that was spotted off Old South Road on Saturday.
After Air Force One lands on the island on Tuesday, a massive motorcade is expected to deliver the Bidens to the waterfront compound of billionaire investor and philanthropist David Rubenstein, co-founder of the Carlyle Group, along Nantucket Harbor. This is the same location where the Bidens stayed last Thanksgiving, and it will have a security perimeter that extends out into the harbor.
On Saturday, the Federal Aviation Administration issued a temporary flight restriction for the skies above Nantucket from Tuesday through Sunday due to "VIP movement."
The flight restrictions prohibit all planes within a 10-mile radius of Nantucket Memorial Airport during that window, with the exception of regularly scheduled commercial passenger flights and approved air ambulance operations, along with any U.S. government and security aircraft supporting the President's visit.

Nantucket public safety officials met last Thursday afternoon with U.S. government personnel at the public safety facility off Fairgrounds Road to discuss the security plan for President Biden's visit.
The U.S. Secret Service along with Massachusetts State Police will once again take the lead role in protecting President Biden on Nantucket, with local authorities playing a supporting role.
Last year the Nantucket Police Department issued a security advisory for all those attending the annual Christmas tree lighting ceremony on Main Street due to the Bidens' attendance at the event. The additional measures included security screening, street closures and parking restrictions on Main Street and the downtown area.
A source told the Current that the Bidens will have roughly the same schedule again for this year's visit, which includes attendance at the tree lighting ceremony.

Last year's Thanksgiving week on Nantucket was transformed by the arrival of President Biden and his family, who came with an entourage of more than a hundred Secret Service agents and security personnel and were followed by dozens of media members and television news crews, along with State Police Troopers and others.
While Biden had been coming to Nantucket for more than four decades as a U.S. Senator and eventually as Vice President, last year's visit was unlike any that had come before it in terms of the government apparatus that descended on the island to provide security.
Current News