The Multi-Million Dollar COVID-19 Loan Fraud With A Nantucket Connection
JohnCarl McGrady •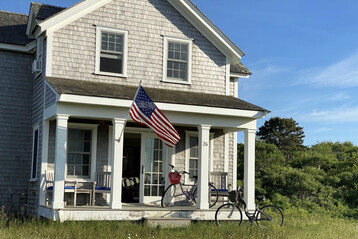 A New York resident and theme park owner pleaded guilty Thursday to fraudulently diverting $3.2 million in small business loans to pay for personal expenses including the purchase of a home on Nantucket.
Donald Finley, the owner of Bayville Adventure Park in Nassau County and a now-defunct Jekyll & Hyde-themed restaurant, applied for and received at least $3.2 million in small business loans under the Paycheck Protection Program (PPP) and Economic Injury Disaster Loan Program (EIDLP) established by the government during the COVID-19 pandemic. But according to the U.S. Attorney's Office for the Eastern District of New York, instead of using the money to support his businesses, Finley spent much of it to buy a house on Nantucket in February of 2021.
"Finley has admitted diverting millions of dollars in COVID-19 disaster relief funds to finance his personal expenses, including the purchase of a home in Nantucket," stated United States Attorney Breon Peace.
The house is believed to be located at 26 Eel Point Road, a property purchased on February 10th, 2021, for $2.25 million. The property is currently listed under the name Sandra Finley but has been listed in the past under Donald Finley and under Anne K Finley. According to a marriage notice in the New York Times, Donald Finley married a woman named Anne Kristof in 1992. The notice also says his mother's name is Sandra Finley. Donald and Anne Finley first bought the 1.84-acre property through Eel Point Management LLC, which lists them both as managers, for $1.5 million in 2004. The Finleys temporarily lost control of the property in 2018, when it was purchased by US Bank, before reacquiring it in 2021. The property and the two-bedroom, three-bathroom house that rests on it are now assessed at a combined $3.1 million.
Donald Finley, who pleaded guilty to disaster relief fraud and wire fraud, will have to pay restitution, as well as a fine of up to $1.25 million. The 61-year-old is also facing up to 30 years in prison at sentencing, scheduled for November 8th.
"Finley obtained millions in COVID-19 relief funds, only to use the ill-gotten cash for his own personal gain," IRS special agent Thomas Fattorusso said in a statement to the US Attorney's Office. "While he may be the owner of an amusement park meant to bring joy, with his guilty plea and pending sentencing, Finley may be facing a future that he could find much less enjoyable."
Current News