Town Reportedly Offers Fire Chief Job To Finalist From Rhode Island
Jason Graziadei •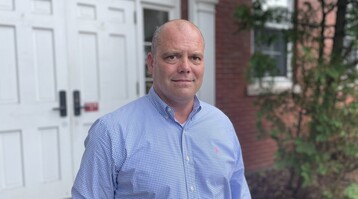 The Nantucket Fire Chief job has reportedly been offered to Michael Cranson, the former chief of the Portsmouth, Rhode Island fire department who is the lone finalist left following the town's search process.
Cranson has been offered the job by the town, according to Nantucket Fire Union President Jeff Allen, but it is not yet clear if has accepted. Cranson, who visited the island last week as part of one of the final steps in the search process, has also applied for other fire chief positions elsewhere on the mainland. The other finalist, Chris Christopoulos, dropped out last week due to health issues, town manager Libby Gibson said.
The offer to Cranson comes after weeks of acrimony following the town search committee's decision to eliminate current Nantucket Deputy Fire Chief Sean Mitchell from the group of finalists for the job. Since then, the fire union - Local 2509 - and members of the island community have lobbied heavily for Mitchell to be named chief. A citizen's petition has been signed by at least 832 people, while the union has gone as far as issuing a "stand down" letter urging outside candidates not to apply.
Meanwhile, despite making the offer to Cranson, the town is also moving ahead with plans to hire an interim fire chief in the event a permanent replacement for Steve Murphy is not in place by the time he leaves at the end of this month.
During this Wednesday's Select Board meeting, members will be asked to approve a contract with Martin Greene, the former Bourne fire chief who recently served as interim chief for Oak Bluffs on Martha's Vineyard.
The contract with Greene would run from Aug. 26 to Oct. 15, and pay him $600 per day, plus expenses.
Current News