Victim In E-Bike Accident Dies
Jason Graziadei •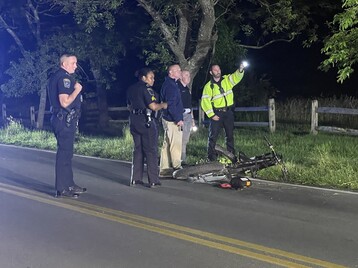 The victim in last Wednesday's e-bike accident on Vesper Lane has died.
Shay Deverse, who worked on Nantucket as the general manager of Lemon Press on Main Street, has been identified as the person who was found unresponsive in the roadway during the early morning hours of June 21st. He was transported by Medflight helicopter to a Boston hospital, but has since passed away.
"The Lemon Press family mourns the loss of one of our own, as we said goodbye to our general manager, Shay Deverse, yesterday," the restaurant stated on its social media accounts. "Many of you knew Shay to be the friendly face that greeted you when you came through the door . He was a valuable member of our team and his tragic passing reminds us how precious this life is."
Lemon Press will be closed Tuesday, June 27th, to allow its staff "a day of rest and reflection in the way of this loss."
The circumstances of the accident on Vesper Lane just after 1 a.m. last Wednesday remain unclear. The Nantucket Police Department has not responded to inquiries about the incident.

Two island residents who were driving home from town last Wednesday came upon Deverse in the roadway about 100 yards away from the entrance to Nantucket Cottage Hospital and alerted authorities.
The two witnesses at the scene told the Current they came upon the man face down and unresponsive on Vesper Lane next to an e-bike. First responders administered CPR before he was transported by ambulance to the hospital, and then by Medflight off-island.
Officers were seen scouring the area around the e-bike. A mailbox also appeared to have been struck near the e-bike on the road. At this time, nothing further is known about the circumstances of the accident.

Current News