Current Nature: It Takes A Village - The Nantucket Biodiversity Initiative
Kristin Bullett, Community Engagement Coordinator at the Linda Loring Nature Foundation •
We know Nantucket is special for many reasons, among them the rich natural resources found here. The island is home to several rare species of birds, plants, and insects, and has large patches of habitat permanently protected. There are a number of organizations that serve as stewards of Nantucket's natural resources, each with its own unique mission. The Nantucket Biodiversity Initiative is where all these groups come together in collaboration to accomplish more for our environment than any organization could alone.
Twenty years ago, the Nantucket Biodiversity Initiative (NBI) was formed with the mission to conserve the native biodiversity of Nantucket, Tuckernuck, Muskeget, and surrounding waters through collaborative research and education. You might be wondering, what is biodiversity? It's a big word that describes something you see every day. Biodiversity describes all the different kinds of life in one area—the variety of animals, plants, fungi, and even microorganisms like bacteria, that make up the natural world. The deer in your backyard, the eelgrass in the harbor, and the shrubs of the Moors are all part of Nantucket's biodiversity. This variety of life is what NBI works to study and protect.
There are currently twelve member organizations that contribute to this mission, including local government agencies, nonprofits, businesses, and academic institutions. These members meet regularly to discuss projects underway, emerging issues, research findings, and more to keep everyone updated on the latest in conservation. To support local research, NBI offers grants to projects that expand our understanding of understudied plants or animals and projects that explore climate change on Nantucket. Since 2005, NBI has awarded over $100,000 to more than 100 research projects that have studied everything from turtles to ants.
Much of NBI's work is also accomplished through its two major events: the Research Conference and the Science Showcase. In alternating years, these events share the projects of member organizations and the researchers funded by NBI's grants. The Science Showcase is a week-long series of workshops and hands-on tours that explore local projects and will be back in 2024.
This year, rather this week, is the 10th Biennial Research Conference, which highlights projects that have been funded by NBI and offers an opportunity to hear directly from scientists working on biodiversity research locally. Anyone can join and learn something new about the ecology of Nantucket!
The conference starts on Thursday this week, with the keynote address from Dr. Simone Whitecloud, who will present "Indigenous Traditional Ecological Knowledge of Plants". Dr. Whitecloud is from the Lac du Flambeau Band of Lake Superior Chippewa on her father's side, and of French and Cajun descent on her mother's side. Her areas of expertise are plant community ecology and ethnobotany, and she is interested in indigenizing (decolonizing) how science is conducted in the North and beyond. This free presentation is hosted at the Nantucket Atheneum at 7 p.m. on November 2nd, and is open to anyone.
Next, a full day of research presentations will be held at the Nantucket Hotel on Friday, November 3rd. Scientists who have received grants from NBI and researchers working on related topics will share their work. This conference is an excellent opportunity to hear from researchers in marine sciences, habitat management, ecological restoration, botany, and animal biodiversity. After the presentations, a cocktail reception will be held at Lemon Press from 5 p.m. -7 p.m.
To close out the conference, field workshops are held over Saturday and Sunday for an opportunity to explore Nantucket's biodiversity up close and personal with the experts. You can join a birding tour to Great Point, explore botany along the South Shore, or learn about rare grasslands at Head of the Plains.
To register for the conference, visit this link. Anyone is welcome to join us, regardless of your background or experience! The conference is excellent opportunity to learn about Nantucket's unique biodiversity, and there's a little something for everyone. And keep an eye out for the Showcase next year, which is typically held in early summer.
Besides the member organizations of NBI, many others have supported the conference this year. Thank you to the Remain Nantucket Fund at the Community Foundation for Nantucket, the Mass Cultural Council, Young's Bicycle Shop, Lemon Press, the Nantucket Atheneum, Nantucket Walkabout and NCTV for your support of the Research Conference! We are fortunate to have community support for protecting and sharing Nantucket's biodiversity.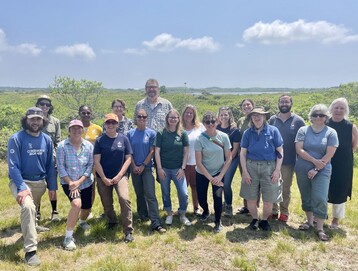 Current Opinion