An Early Look At The 2023 Nantucket Spring Sports Teams
David Creed •
The 2023 spring sports season has arrived. All seven of the Nantucket sports teams took part in their first practices on Monday. While tryouts are still underway and coaches continue to evaluate their players, there are some teams who have experienced players returning and some early observations can be made about each team's core of players that will be representing each of these varsity rosters once regular season action begins.

GIRLS LACROSSE
The Nantucket girls lacrosse team had an impressive season last year, making it to the final four of the Div. 4 state tournament. While seniors such as defensive midfielder Evelyn Fey, defender Anna Hudzik, and goalie Mimi Belanger will need to be replaced, the Whalers will be returning their top three goal scorers from last year.

Junior midfielder Bailey Lower, who verbally committed to Vanderbilt University's Div. 1 program in the fall, led the team with 92 goals last year along with 49 assists for 141 points.
Junior midfielder Cydney Mosscrop was second on the team with 76 goals and 28 assists for 104 points.
Junior midfielder Emerson Pekarcik, who verbally committed to High Point University's Div. 1 program in the fall, was third on the team with 65 goals and 12 assists for 77 points.

These three players should all but ensure that the Whaler's have a strong offensive attack. However, if Nantucket wants to take their offense to the next level and reach the state final, other players will need to step up to provide the necessary depth scoring.

With Hudzik graduating and junior Hannah Evens moving off island to prep school, the defense will look different, but will be led by junior Brooke Damian, who had a strong season last year. Claire Misurelli, a junior, is expected to be the team's goalie this season.

Based on last year's team, some players who are early candidates to see their roles increase in a big way are Mayson Lower, Maddie Lombardi, and Evelyn Stahl. Lana Bresette, a senior, stepped up when asked last year on defense and with the departures of Hudzik and Evens, could see her role expand as well. Head coach Jami Lower, who has been a pillar in the island's lacrosse community while playing a major role in the development of Nantucket lacrosse players through the youth program, always seems to find a way to fill in the gaps and knows each of the player's strengths and weaknesses as well as anybody.

BOYS LACROSSE

The boys lacrosse team lost several seniors from last year's team, which made it all the way to the Elite Eight of the Div. 4 state tournament. But the team has just as much talent, if not more, to work with this season.
Juniors Cole Chambers and Jack Halik, who were the team's leading scorers last year, are back and ready to anchor the Whaler's offense once again. Expect head coach Sam Aloisi and his staff to find ways to get them high quality looks on offense.

There is a strong core of freshman and juniors for Aloisi and his staff to work with and surround Halik and Chambers with. Freshmen Aaron Hanlon and Canton Jenkinson should play a big role for the team this season. Juniors such as Michael Culkins, Ryan Davis, and Colby O'Keefe could also see their roles increase in the aftermath of last year's senior class, which was made up largely of midfielders and attackers, no longer creating road blocks to playing time, which limited their opportunities to make an impact on the field during their sophomore campaigns.

Freshman Ethan Jarrett has also made a strong early impression and early indications are that he could help an already experienced defense. The unit is led by returning starters Griffin Starr and Hunter Strojny, both juniors, along with senior long stick middie Luke Stringer, who will be playing college lacrosse at Maine Maritime.

George Boucher had a stellar career in net for the Whalers the past four seasons. However with Boucher graduating last June, it will be Sean Murphy in net for Nantucket this year.
Aloisi describes Murphy, who is a natural goalie, as very athletic and is excited to see him step into this role after being used all of last year as a midfielder. Murphy did play goalie for one game last season against the Sandwich Blue Knights and impressed his coaches and teammates in the 12-7 defeat to the eventual state champion runner-ups. Sophomores Jeremy Jenkinson and Sujal Mali will also provide valuable depth in net for Nantucket.

SOFTBALL
The Whaler softball team is in the midst of a transition after former head coach Chris Maury retired after 30 years on the job. Grace-Anne Tornovish will takeover after assisting Maury in recent years and is excited for the opportunity.

The head coach isn't the only change. There will also be plenty of new faces on the diamond after several key players graduated in June such as pitcher Maclaine Willett, who was also one of the team's best hitters, shortstop Raegan Perry, third baseman Quincy Sullivan, and centerfielder Caroline Correia, who may have been Nantucket's best all-around player after cementing herself as an excellent hitter who was good for one or two fabulous plays in the outfield every game.

Sydney Ard, who is entering her junior season, emerged as a key player for Nantucket last year and as one of the returning starters, figures to be one of their best players this season. Ard should have an opportunity to carve out a leadership role on this team and help the program's new core develop. She found herself as the team's cleanup hitter on numerous occasions last year and performed well against some strong opponents such as Falmouth and Barnstable with multi-RBI games.
BASEBALL

The Whaler baseball team didn't get off to the start they were hoping for last season. They began the year 1-9 but by season's end, they were 7-11 after winning six of their final eight games. The season ended with a 4-0 victory over Martha's Vineyard at home on May 30 thanks to an incredible performance by senior captain Riley Williams, who no-hit the Vineyard and struck out 16 batters.

But the team no longer has Williams to rely on as their ace and will need to replace six of the nine players penciled into the starting lineup of that final Vineyard game, which was one heck of a send off for that senior core.

Senior captain Colin Lynch will be in the middle of Nantucket's lineup after a strong junior season last year and should also be on the mound as one of the team's starting pitchers. Behind the plate, Nantucket returns Argelis Nunez. Nunez not only calls an excellent game from behind the plate, but also brings a dependable bat to the lineup. His arm will have other team's second guessing whether it is wise to be aggressive on the base paths or not regardless of how fast the players on base are.

Outfielder Gillis Cocker also returns, and the team welcomes senior Will Ciarmataro to the program with the hopes that he can help fill the voids left by the senior core that graduated. Senior Sam Cristler also saw plenty of playing time last season and will be called upon to play a big role this year as well both on the field and at the plate.

BOYS TENNIS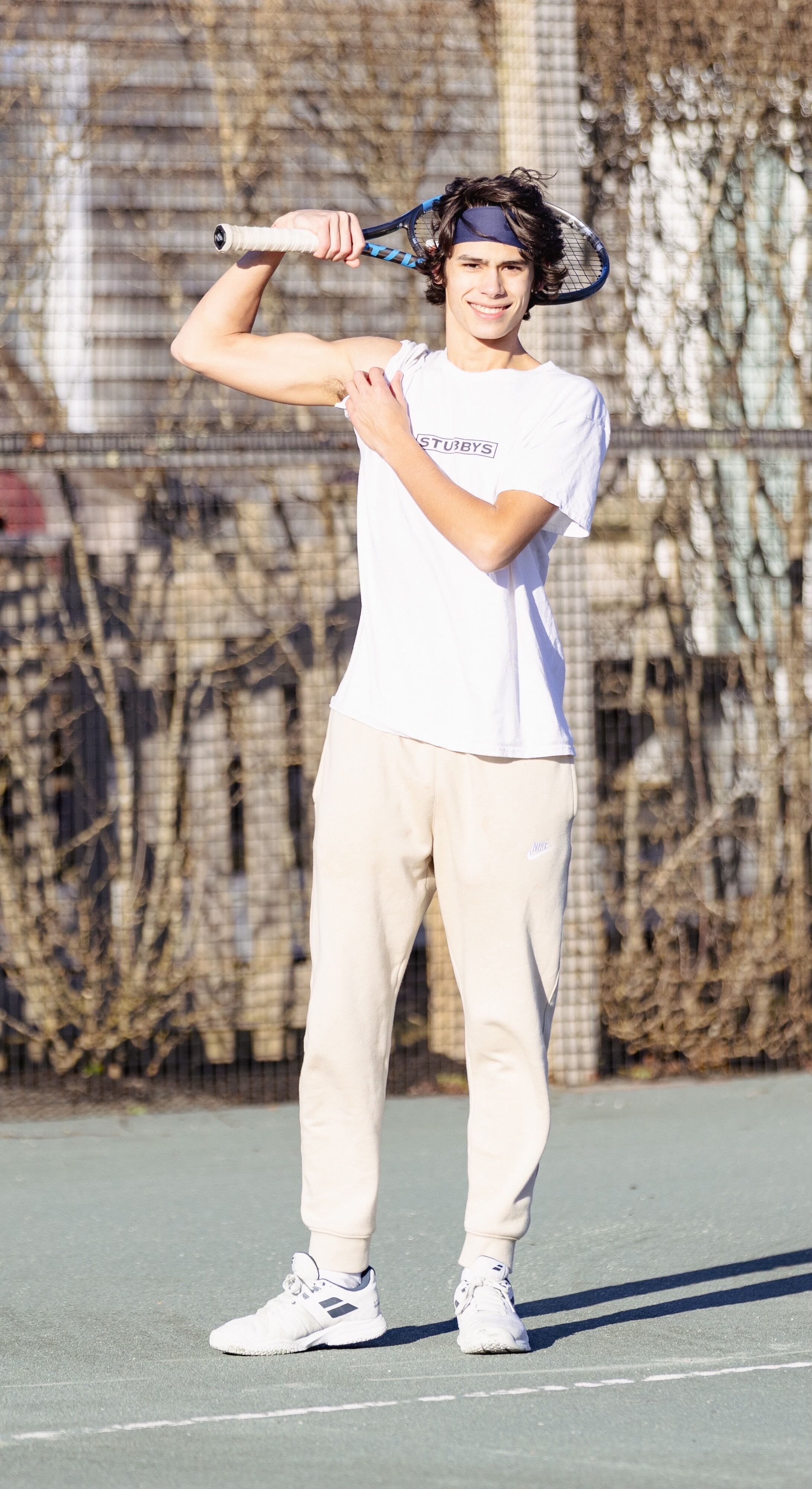 The boys tennis team looks poised for a very successful season and they will be eyeing a deep state tournament run. They will need to replace Evan Belanger, a senior captain on last year's team who served as head coach David Cheever's top singles player.

But nearly every other starter will be returning. Second single Quinn Keating and third single Henry Kathawala are both back with another year of experience under their belt. The team also has some younger players who will be competing for singles spots and/or spots on the team's top doubles pairing such as Boyon Kalpazanov, Hawkin Edwardes, and Soren Edwardes.

Hunter Gross, a mainstay on the team's top doubles pairing last season and Connor McLean, a key contributor on the team's second double's pairing, also return with another year of experience under their belts with an eye on continuing to move up the lineup. David Cheever is entering his third season as head coach and from talking to his players, the respect and appreciation they have for him as their head coach is through the roof. He deserves lots of credit for the direction the program is going in.

GIRLS TENNIS

The girls tennis team doesn't have as many players returning as the boys tennis team, but head coach Luke Thornewill is excited about the opportunity to work with his younger players. The team lost its top three singles players from last season. Emily Dussault and Abbey Boylan graduated while Elis Vieth, a freshman last year who would have taken on the role as the team's top singles player this season, moved on to play tennis at IMG Academy.
The team also lost two of their top doubles players in Sarah Hanlon and Haley Ray, both of which were seniors last year. This means that returning players such as Joan Harris and Lauren Cutone, who cemented roles in the team's doubles pairings last year, will be expected to take on a larger role.

Like Cheever, Thornewill has put lots of time and effort into the program and his passion for the sport is evident from the moment you begin discussing tennis with him. Given the youth of this team and the reality that many players are in the early stages of learning the sport, Thornewill is the perfect person for the job.
*We will have more information on the sailing team next week, with photos!*

Current Sports