Bailey Lower, Emerson Pekarcik Make Div. 1 Lacrosse Commitments Official
David Creed •
Seniors Bailey Lower and Emerson Pekarcik made their Div. 1 girls lacrosse commitments official on National Signing Day Wednesday afternoon - signing their letters of intent surrounded by family and friends. Former Whaler Hannah Evens, who now attends Brooks School, also made her commitment official - giving Nantucket High School's original Class of 2024 three Div. 1 girls lacrosse players.
Lower will be continuing her career at Vanderbilt University while Pekarcik will be playing at High Point University. Evens will be playing at Marquette University.

Lower and Pekarcik have both had stellar varsity lacrosse careers at Nantucket High School to date. Lower currently has 257 career goals and 148 assists in 56 games while Pekarcik has 193 goals and 64 assists in 56 games. The duo led Nantucket to the Div. 4 state semifinal in 2022 and the state quarterfinal in 2023. They are hoping to lead Nantucket on another deep tournament run this spring.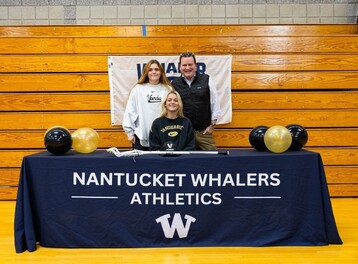 As for Evens, she grew up on the island and played two seasons for Whaler's varsity girls lacrosse program and was a member of the team that made the state semifinal in 2022.
Current Sports