Boys Basketball Struggling To Find Identity, Fall To 3-5 Following Loss To Barnstable
David Creed •
The Whaler boys basketball team hosted the Barnstable Red Hawks Friday evening but were unable to come away with the victory, losing 62-51. Eight games into their season, the Whalers are struggling to score and replace the production of Justin Bloise, their starting point guard last season.
Junior center Jack Halik had an excellent second half in this game and finished the night overall with 20 points, 12 rebounds, 3 assists, and 3 blocks. He is averaging 11 points per game but will need to start producing more games similar to Friday's if Nantucket wants to begin winning at a more regular rate.
Whaler head coach Willis Ferreira said after the game that he was very pleased with the effort of his players, who he felt left everything they had on the floor. It ultimately came down to Nantucket's inability to score matched up with what seemed to be Barnstable's inability to miss, especially during the Red Hawk's 38-point first half.
"We didn't make and they made," Ferreira said. "Simple as that. I thought we played our butts off, especially in the second half. We just couldn't narrow the gap. We had opportunities. We had layups, foul shots, open (shots), turnovers and then kick it out of bounds."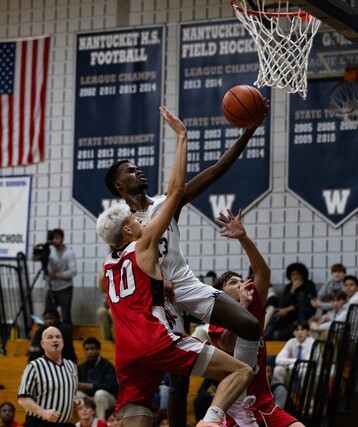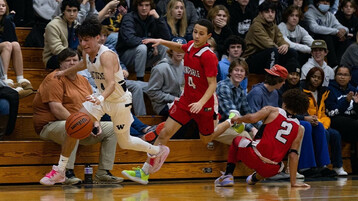 "It was almost the exact opposite of when we played them over there (in December)," Ferreira added. "We didn't miss and did everything right while they couldn't do a thing. Then today (Barnstable) did everything right and we couldn't do a thing."
The Whalers got some good contributions off the bench from juniors Chris Simpson, Nathan McLean, and Aiden Congdon. Simpson had a pair of blocks and McLean provided some help with Nantucket's team rebounding. Ferreira said that was one of the positives he can take out of this game which will allow him to give his starters some rest in the games ahead rather than continuing a very short rotation.
The game started out with the Red Hawks scoring 22 first quarter points to Nantucket's 15. Barnstable was clearly more comfortable slowing the game down and making it a half-court game while the Whalers wanted to speed things up and produce points in the fastbreak.
Nantucket hoped that the game would eventually turn out similarly to the Dec. 27 meeting between these two teams in Barnstable. The Whalers bounced back from a sluggish first quarter to beat Barnstable 75-42.
But this game was different. Nantucket was outscored 17-12 in the second quarter and went into halftime trailing 39-27. The Whalers eventually slowed down the Red Hawk's offense, allowing just 22 points in the second half, but Nantucket only scored 24 of their own and struggled to finish at the rim and bury their open shots.
The Whalers will be in action again on Tuesday, January 17 when they host the Sandwich Blue Knights at 5 p.m.
Current Sports