Boys Lax Handed Loss Following Late Game Surge By Nauset
David Creed •
The boys lax team welcomed a talented, deep Nauset Warriors squad ranked #3 in Div. 2 to the island Thursday afternoon and despite a strong first half, lost the game 16-6.
"Those guys I mean, what can you say. They have a good team," Aloisi said. "They have a good face-off guy. They have a good goalie. They have two good lines of middies."
The Whalers got on the board first thanks to a Jack Halik goal, but Nauset scored two goals in response to make it 2-1 at the midway point of the opening quarter.
Ryan Davis tied the game for Nantucket in the back half of the first quarter but Nauset once again answered quickly and made it a 3-2 game with 1:58 left in the first. The Warriors carried that lead into the second quarter.
Just one goal was scored in the second quarter and it was by Nauset with 5:47 left in the first half. Aloisi said he was very happy with his defense through the games first 24 minutes.
"I thought our guys played incredible defense in the first half," he said. "To hold those guys to four goals at the half is not easy to do."
Nauset scored two quick goals in the first five minutes of the third quarter to make it 6-2 but Halik answered with his second tally 90 seconds later to make it a 6-3 game with 5:36 left in the third. Nauset scored one more late to make it a 7-3 game after three quarters.
The fourth quarter however was all Nauset. They were strong in the face-off dot and dominated time of possession, scoring nine of the games final 12 goals.
"At the end it was just a matter of being tired," Aloisi said. "We couldn't get the face-offs, not for a lack of effort though because Michael (Culkins) did a great job today. Towards the end they began winning them, coming down on the fast break, and all six of their guys can score so it is just tough to defend."
Aloisi said he felt freshman goalie Jeremy Jenkinson, who made 11 saves on Thursday, played great.
"All those goals in the fourth quarter he didn't have a chance," Aloisi said. "They were point blank. That is a good team I mean they are what, top (three) in division two? No real weakness on their side of the field. We needed every break to go our way and they didn't. I thought there were a few breaks in the second and third quarter we just didn't get and if we had, could have changed the momentum a little bit."
"I thought the kids played well, played hard. What else can you do?"
Halik and Davis each scored two goals. Colby O'Keefe and Cole Chambers had one goal.

The Whalers, who are currently ranked #8 in the Div. 4 bracket, have one more game before the state tournament: a road matchup with Martha's Vineyard next Saturday, May 27 at 12 p.m.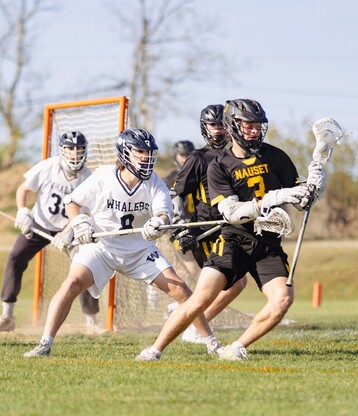 Current Sports