Whaler Sports Roundup: Nantucket Loses Island Cup Thriller In Final Seconds
David Creed •
This Whaler Sports Roundup includes updates on all four Nantucket vs. Martha's Vineyard varsity sports matchups on Saturday. Nantucket's field hockey team walked away with the school's first and only Golden Anchor while the football team lost a thriller for a second consecutive year in the Island Cup game. The boys and girls soccer teams also lost their games but their postseason aspirations remain intact.
Field Hockey Wins 6-0 On Senior Day
The Whaler field hockey team wasted very little time rebounding from Wednesday's 3-0 road loss to the Dennis-Yarmouth Dolphins – beating Martha's Vineyard 6-0 on Saturday to earn the first and only Golden Anchor for Nantucket on the day in the tradition's inaugural year.
"I just think it's cool to have a tradition for the other sports," Weber said of the new Golden Anchors being handed out for field hockey, boys soccer and girls soccer. "The island cup is fantastic. It's really tough to start a tradition and something like that, but I think it's nice to have that for us and the soccer teams. Kudos to Travis (Lombardi) and the Vineyard AD (Mark McCarthy) for coming up with the idea because I think it's really cool. Hopefully it becomes a thing that goes on for a long time."
Caroline Allen and Claire Genthner each scored two goals. Suz Peraner and Marin Mooney also scored one goal each. Allen now has 11 goals this season while Peraner is up to nine goals as those two have emerged as the team's best goal scorers.
"I thought we played great. We're a team that does the fundamentals and the basics really well," Weber said. "(Things like) playing good one-on-one defense, passing the ball really well. When we do that stuff well, we usually come out on top and I think that's what we did today. We didn't do anything crazy. I just think we played like the team that we are and how I would expect and hope us to play every single game. When we do that, we usually win - so I thought we played great."
The Whalers also honored their four seniors after the game: Allen, Aubrey Connors, Lily Remick, and Ali Bamber. Weber said after the game that those four players have made a tremendous impact on the program and that it will be felt for years to come. He believes that impact is already on display through the team's gradual improvement year after year.
"What they've done to raise the level of play in this program, I can't overstate it. It's just the commitment and the buy-in and the willingness to work hard," Weber said. "They'll leave behind girls who will know that the people before them worked hard to get us to this point. They're all major contributors and they're good people, which is the most important thing. They're just great girls. We're going to miss them big time. I couldn't talk too much in there because I'm not as big of a crier as Elizabeth (Weber, co-head coach) but I'd probably start getting some tears in there eventually if I talked too long. I'm hoping we got at least one more (game) on this field for them when this whole (season) is done."
Nantucket will now wait for the MIAA's Div. 4 field tournament bracket to be released on Tuesday, October 31 to learn their next opponent. The Whalers are expected to have a round one home tournament game.
Football Loses Thriller, Cup Remains On Martha's Vineyard
For the second time in as many years, the Whaler football team suffered a heartbreaking defeat at the hands of their island rival, Martha's Vineyard, in the annual Island Cup game.
The Vineyard never led in the game until there were three seconds left on the clock. But a made field goal by Vineyard kicker Victor DeSouza gave the Vineyarders a 24-21 lead late and kept the Cup on the Vineyard.
"They brought a lot of good energy into this," Nantucket head coach Tim Psaradelis said of his team after the game. "I was concerned about the pressure of this game on some of them being too much, but I didn't see that. You might attribute some of the mistakes to the nature of this game and the size of it, but I didn't see some of the mistakes that I saw last year for instance that I could attribute to the fact that it's the Vineyard game. I was glad they focused on their jobs and executed as best they could. Obviously, there were mistakes that didn't help us but all in all I thought we came in levelheaded, played well and had some good moments, and gave ourselves a shot to win it. I knew it would be close."
While the Vineyard and Nantucket did nothing with their opening drives, Nantucket didn't stay quiet for long. On the Vineyard's second offensive drive they were forced to punt the ball away deep after being hemmed in deep in their own territory after another strong defensive stand by the Whalers.
The Vineyard attempted to punt the ball away, but Whaler sophomore lineman Jay Nolasco had other plans.
Nolasco was able to break through, block the punt, and snag the ball out of the air as he was running into the end zone for the game's first score. Nantucket led 7-0 with 6:02 remaining in the first quarter.
After another Vineyard drive was stalled by a stout Whaler defense, Nantucket got the ball in the hands of their best playmaker and budding star wide receiver, sophomore Arann Hanlon.
Hanlon took the end around, found some space on the outside, and dashed down the Vineyard sideline 69-yards for his eighth touchdown of the season to give his team a 14-0 lead with just over three minutes remaining in the opening quarter.
"He just battles," Psaradelis said of Hanlon. "On a couple of those runs he made he's just cramping up, gets right back in. Just a good mentality, mindset. He's reliable. He is a sophomore as I keep reminding myself. He just brings such good energy and confidence to the rest of the kids. We've got two more years of it which is going to be great."
The scoring stopped for a while until the Vineyard struck back just before halftime. Vineyard quarterback Matt McMillan found Aiden Conley for a 17 yard score to make it a 14-7 game with 2:22 to go in the first half.
Less than one minute later with 1:27 remaining on the clock, The Vineyard took it to the house 68 yards and appeared to tie the game. However, some yellow laundry was on the field after a Vineyard player was called for a hold. It brought the play back and negated the score. Nantucket caught a break and the score remained 14-7 entering halftime.
Nantucket quickly regained their two-score lead when the second half began. To that point, the Whaler's special teams and offensive units had put points on the board. In the third quarter, the defense decided it was their turn.
As a Vineyard running back turned the corner while running to the right sideline the ball came loose, was scooped up by Nantucket sophomore defensive lineman James Dutra, and taken 20 yards to the end zone to make it a 21-7 game with 9:41 left in the third quarter.
"Our scores on those turnovers were huge," Psaradelis said. "It's great to get those but as a head coach, big picture I'm going 'That's great but we can't live off of those a lot of times. We still need to execute and run the ball.' It was great to get them but in the back of my mind I'm still kind of going 'Eh I'm not feeling we're controlling this game, we can control the line of scrimmage the way we need to.' So I was hoping that those two scores (off turnovers) might have been enough but they slowly crept back in."
The Vineyard's trouble with turnovers continued on their next drive. They gave it back to Nantucket with 6:52 remaining – giving Nantucket an opportunity to expand on their lead.
But Nantucket turned the ball right back over to the Vineyarders and from there, McMillan and the Vineyard offense got to work. They found success in the middle of the field over and over, prompting them to hammer that part of the field time and time again until the Whalers proved they could stop it.
With 4:28 to go in the third quarter and Martha's Vineyard on the Whaler's 26-yard line, McMillan found Wyatt Nicholson for a 26-yard score to make it 21-13, but the game remained an eight point difference after Nantucket blocked the point after attempt.
As the game progressed through its final quarter, the Vineyard began driving again. With 5:07 remaining on the game clock the Vineyarders faced a 4th and 7 situation inside of the red zone, which they converted thanks to a nifty halfback pass play. It was the perfect playcall at a time of the game where the Vineyard needed someone to make a play. The score made it a 21-19 game and after picking up the two point conversion, knotted the game at 21 apiece.
The Whalers began to drive on their next possession thanks to a pair of conversions by Hanlon that got Nantucket to the Vineyard's 46 yard line - one on a run and one on a pass. The Whalers eventually found themselves having to go for it on a 4th and 4. They wisely opted to hand it to Hanlon, but he came up a couple of yards short this time - turning it over on downs.
McMillan quickly moved his team into Whaler territory with a 35-yard completion on a 1st and 20 situation after one of his lineman got called for holding. But Nantucket's defense once again made a play and forced a fumble – which they recovered – to give their offense possession again with 1:02 left in the game from the Whaler's own 32-yard line.
The Vineyard defense responded almost instantly - picking off Nantucket sophomore quarterback Brock Beamish with 45 seconds to go in the game. Martha's Vineyard took over at the Whaler 45 yard line.
The Vineyarders moved the ball up the field quickly to the Nantucket 15 yard line and sent out Victor DeSouza for a 32 yard field goal attempt.
The first try was good, however Psaradelis called a timeout before the ball was snapped.
The second try was good, but the Vineyard was called for a penalty and forced to re-kick.
The third try was also good, and this time there was no timeout and there were no flags. This one counted, and this one gave the Vineyard their first lead of the game in the final seconds. DeSouza showed incredible mental toughness to make the game-winning kick three consecutive times, and it ultimately won his team the game after Nantucket was stopped on their final play of scrimmage while attempting to execute a lateral play.
Psaradelis said he is proud of the group he has had the opportunity to coach this year and while they have a pair of consolation games ahead of them now that regular season play is over, he took time to talk about the team's cultural shift this season. He credited his team's three seniors: Carlos Aguilar, Angel Cabrera, and Jason Yarmy. He believes this year has been an important year for the program as it continues to rebuild.
"There was a huge cultural shift, which to me is the biggest thing," Psaradelis said. "These games are important. It's nice to have the Cup at the school and all that stuff but from a big picture perspective 10 years from now, it's the culture piece that's going to play out and make this program special - not those individual wins and losses. I love the cultural growth this year for sure. A lot of it is just the natural transition of this group coming in and just being who they are. There wasn't a lot of me doing anything necessarily special. But I think I kind of support them, let them be themselves, and be the type of football players they are which is good."
"Hopefully it's a welcoming environment, kids feel loved and have fun at practice. But you still got to get those wins. It's tough, but ultimately from a cultural perspective, I think we're in a really good place. The future is bright - I just feel bad for the seniors who wanted this, you know?"
We will provide information on the Whaler's next game when it becomes available.
Girls Soccer Loses 4-1 To Martha's Vineyard
The Whaler girls soccer team lost to Martha's Vineyard 4-1 and are now 8-9 this season. While Nantucket is in the Top 32 of the MIAA's latest Div. 4 power rankings, they are teetering on the edge of that line as the #27 seed.
Nantucket has one game left and it is against the Sturgis West Navigators on Monday, Oct. 30 at a time that is still to be determined on Nantucket.
The Navigators are currently right behind the Whalers in the rankings as the #28 seed in the Div. 4 bracket, so Monday's matchup could very well determine who makes the tournament and who does not.
If Nantucket wins in any fashion, they would automatically clinch a play-in match since their record would be .500 or better at 9-9.
Boys Soccer Loses 2-0
It was a frustrating afternoon for the Nantucket boys soccer team as they lost to Martha's Vineyard 2-0. The Whalers struggled to get much offense going and when they did, hit posts and solid saves ultimately doomed them.
The Vineyard entered the game with a 7-7-3 record and needed a tie or win to clinch a play-in match as they find themselves outside the MIAA Div. 3 state tournament bracket at #37. The Vineyard brought plenty of energy and it was clear that this matchup was being treated as a playoff game for the Vineyarders.

Nantucket meanwhile remains in solid shape. They came into the day at #10 in the latest Div. 4 power rankings and still hold an impressive record of 10-4-3 despite losing to the Vineyarders.
Nantucket has one game remaining and it is against the Sturgis West Navigators on Monday, October 30 at 4 p.m. The Whalers beat Sturgis West 7-2 on Oct. 17 on the island.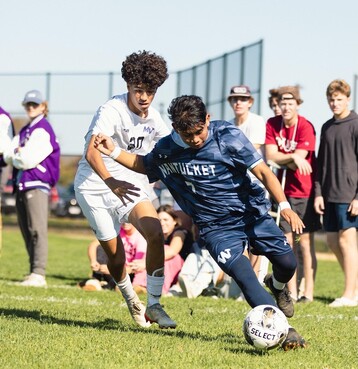 SCHEDULE AHEAD:
Monday, October 30:
Girls Soccer hosts Sturgis West at a time to be determined.
Boys Soccer @ Sturgis West at 4 p.m.
Final Power Rankings Come Out For Each Team On The Following Dates:
Volleyball: Monday, October 30.
Field Hockey: Tuesday, October 31.
Boys & Girls Soccer: Wednesday, November 1.
Current Sports